Charity Worker in Lockdown 8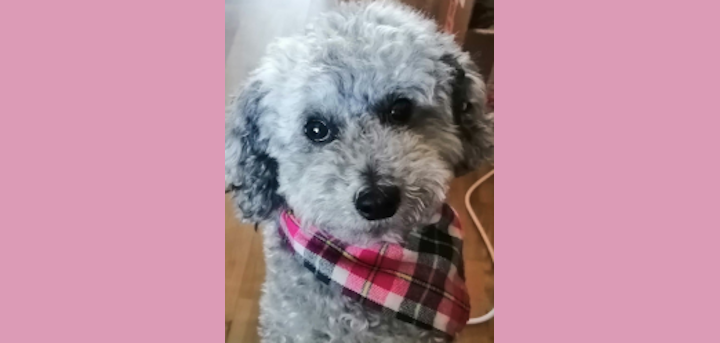 Published on 06 July 2020 03:28 PM
Reggie To The Rescue!
My Name is Fran and I'm part of the Customer Services Team (CST) at Age UK North Tyneside .
My team within the charity didn't go in to lockdown or work from home until the 30th March due to managing our telephony systems. We were still going in to the office trying to sort this out so we could work from home, and rushing to get IT kit together. It was really weird, it felt like a race against time.
The Customer Service team's hours of work were 10:00 until 15.30 as we agreed to work over a 7 day week. We were a bit overwhelmed the first few days as the voice mails flew in to our inbox and we were struggling to keep up!
I'm used to being the first point of contact for new customers but this was like starting a new job because people were ringing us for advice about how they were going to shop, get their pension or even walk the dog.
Calls were coming in from as far away as the Dominican Republic, Dubai and Holland. Family members were worried about their parents and how they would access support, who they could turn to for help and how they could do this with no internet access. I've researched so much information for people during lockdown I should have shares in Google.
I am happy to say that we were able to support with every single query and the CS team would ring each other for advice or suggestions. We've all been there for each other, and thank God as I couldn't have done this without Sonya, Lynn, Leah and Angie (The A team).
The team has also taken over the Covid-19 shopping service recently. We are co-ordinating customer's needs and volunteer support, making sure those still shielding are receiving everything they need. We keep in touch regularly with them all giving them reassurance, and keeping them up to date with the new lockdown information.
Video calls have been very strange. One thing I hate is seeing myself in the little box on my mobile phone. They've also been entertaining- obviously you're in the house and the rest of the household is getting on with their own life and forgetting mam's talking to the team. Lee my son slipped down the stairs one day and his words were 'blue'! Luckily the team were able to have a laugh at his expense and say hello to Lee who was red faced.
I have had some very low days as have the others in the CS team luckily we've been able to support each other over the phone and by having a little pep talk and reassurance from them has helped me get through this unusual and strange time.
Then there's Reggie my 10 inch toy poodle who has an extreme amount of attitude. He has been with me throughout either on a cushion, my knee and has even been on the lap top. He's bossed me about kept the others in the house in order. He joined in with the video calls and generally he now runs my household. I am so lucky I have him I've certainly needed his cuddles.