Tynemouth Outdoor Pool update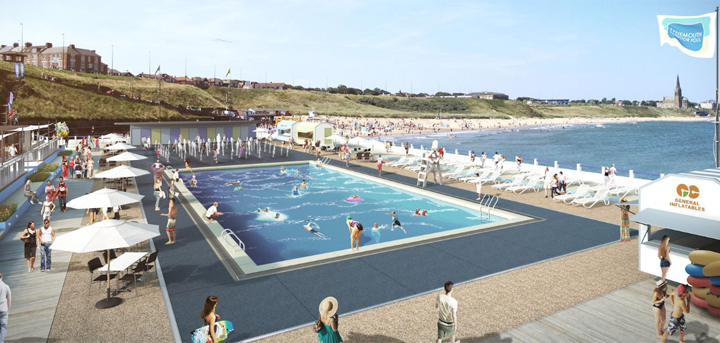 Published on 14 December 2020 02:03 PM
Tynemouth Outdoor Pool is one of the biggest community driven regeneration projects the UK has ever seen and 2020 has seen a year of steady progress.
Here is the latest report from the project team:
Our planned community engagement activity with Age UK was curtailed due to COVID-19. We pushed this into social media and still succeed in gathering a whole range of wonderful visual memories which enhanced further our view of the past. We've a new idea for 2021 which will be the same, but better
Similarly, our schools work has been put on hold. But we have built a community network which also includes the likes of Meadowell Connected and YMCA North Shields to ensure this project reaches deep, inspires all and means something to as many people as possible in the region.
It would be prudent to say planning permission is imminent, pending agreement of our business plan.
Following site visits to other pools in 2019, we have undertaken considerable further research into other Lidos in the UK to build further layers of detail into the business plan. Understanding specifics of sites operating models and all the initiatives which engage communities.
COVID-19 has shone a new lens onto many facets of life, and we remain confident that this pool is desired and more than feasible. Social media engagement and support through the year has been heartening.
We have joined with other active Lido restoration / creation projects in the UK to form a Future Lidos Group (Brighton, London, Grange, Liverpool, Cork, Dublin, Saddleworth, Bynaman) which will consolidate insight, evidence, forecasts and data. Working with Swim England, who are big supporters of this renaissance and reimagining.
Finally, if you're looking for that something special, or different, we've collaborated to raise awareness and funds. You can own the "Get it Built brew" created by Tynemouth Coffee;
https://www.tynemouthcoffee.com/product/beans/get-it-built-brew/
Or a limited edition piece of art created by Sea Tern (but you will need to be quick!);
https://www.seatern.co.uk/shop/tynemouth-outdoor-pool-limited-edition-linoprint
We did have a limited edition t-shirt with Longsands, but sadly they have sold out;
https://www.longsandsclothing.com/collections/t-shirts-1/products/copy-of-tynemouth-outdoor-pool-t-shirt-the-swimmer
In summary, solid progress and we remain quietly confident about the future prospects.
With phases of fundraising, detailed design, procurement and build in front of us, being open for the 100th birthday of the site in 2025 is the realistic target.
Post pandemic funding of course is a huge unknown, to build upon the fact that it's an incredibly complex site. But we've an emerging plan!
With continued public support, we aim to continue to have our bias challenged, ask the difficult questions as we seek to exhaust every possibility to bring this back to life and become a public luxury for the region to be proud of. Perhaps collectively spurred on by ONE Twitter comment;
"Anyone who achieves this would be a genuine civic hero"
Too kind.
Thanks as ever for your help and support.
Have a great festive break, stay safe, and hopefully see you face to face somewhere in 2021.
More advice to stay healthy during the pandemic