Veteran Case Study - June 2022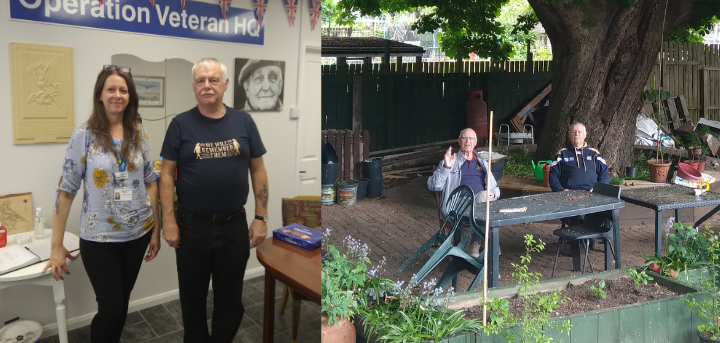 Published on 29 June 2022 03:25 PM
Terry is 67 year of age, retired, and widowed and lives in Killingworth, North Tyneside. He lives alone but has a great family network, with three children, and nine grandchildren.
Terry was a Regimental Sergeant Major in the Fusiliers, and was later involved with the Territorial Army. He is still active within the Fusiliers Association and volunteers twice each week at their allotment in Wallsend. Terry's other passion is woodwork.
Cheryl Newton, Age UK North Tyneside's Veteran Coordinator attended the Fusiliers Association meeting in May and gave a presentation about veteran services available from the charity. After the presentation Terry approached her for more information suggesting he'd like to get involved with what Age UK North Tyneside does to support veterans. Terry was asked to attend the Operation Veteran drop in at North Shields for a chat.
He completed the Veteran Questionnaire, and now attends the weekly 'Pull up a Sandbag Drop In' at Operation Veteran, he also joins the regular veteran beach walk. He brings along another Fusilier Veteran from the association, Peter.
Terry has an interest in woodwork. The Veteran Coordinator referred Terry to The Shed at the Linskill Centre where he can participate in activities to enhance his existing skills . He can meet new people and socialise with other veterans to learn from others as well as share his own knowledge.
Terry now takes the opportunity to attend the regular social events at Operation Veteran, which brings him self-worth and purpose and provides him with more focus.
On his first visit Terry was asked to give a talk about the allotment and showcase the amazing work he and Peter have put in to make the allotment a safe, beautiful, tranquil space for the other veterans who attend.
The allotment space is regarded as a place for those who need time out for themselves. Veterans have the choice to help, grow their own plants, produce and flowers, or just to use the quiet space to relax in the outdoors in the fresh air, in a tranquil environment.
This environment improves their wellbeing and allows them to connect with other veterans. The space is not limited to veterans, as the public can take advantage of it too. Peter has reinforced and promoted Age UK North Tyneside and Operation Veteran's services in a recent association meeting by encouraging more veterans to attend.
Terry said "The service I have received from Age UK North Tyneside has been excellent and has provided me with an outlet to do something other than what my normal daily routine. It's where I can interact, talk, and meet new people for my own mental wellbeing."
To find out more about out Support for Ex-Services, call 0191 280 8484 or click here.