Covid-19 Vaccine Update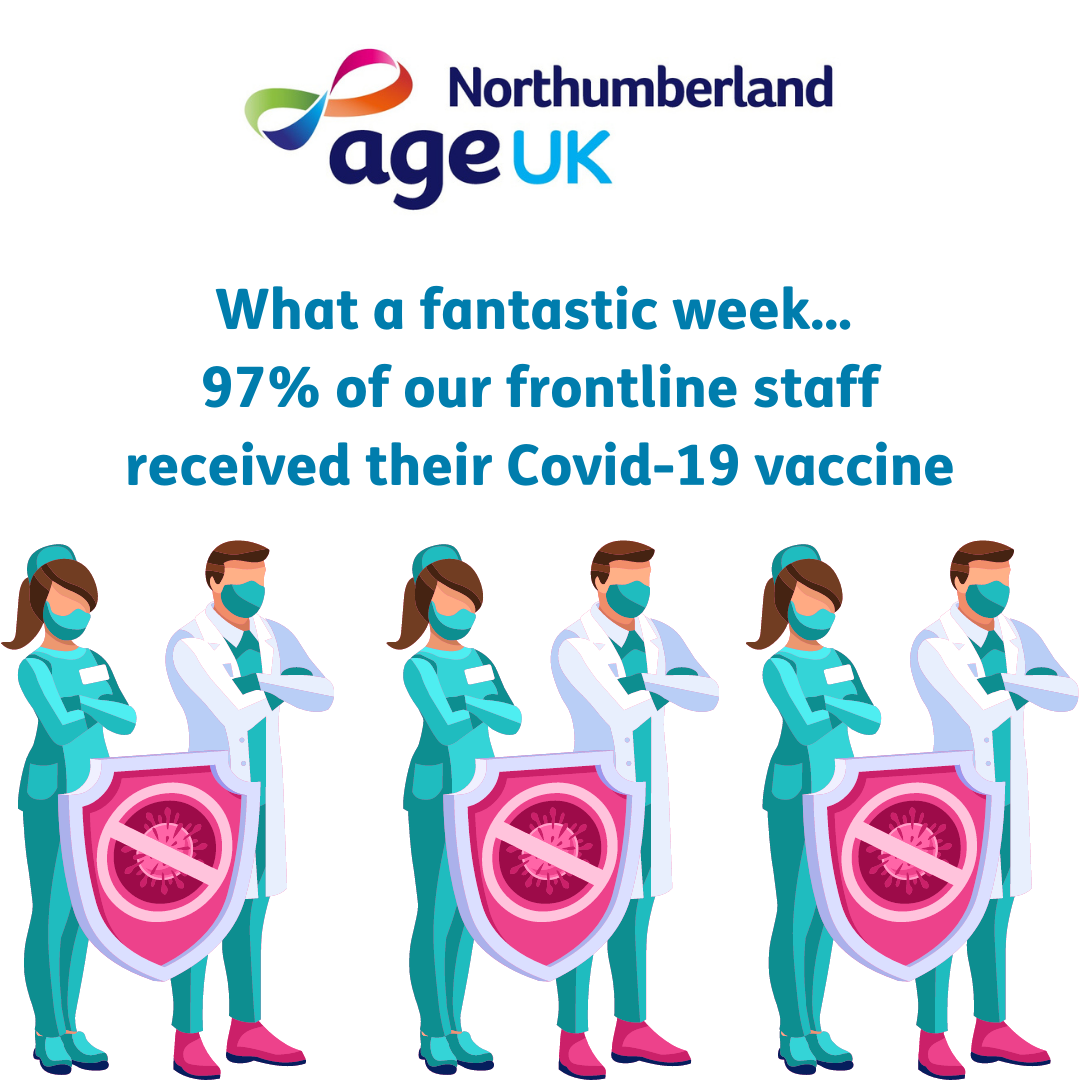 Published on 09 January 2021 11:47 AM
We are delighted that January 2021 has started with the vaccination of our frontline Home Care Teams. This is a terrific step forward in the fight against Covid-19, helping to protect our team and our clients.
The vaccination process is rolling out at great speed across the County and the NHS teams completing this have taken every recaution to ensure this is an easy and safe journey for everyone. Here is just a little insight into the process and some things that you might want to think about:
When you are offered your vaccine, you will be invited to attend a vaccine hub, which has been set up for the this purpose. Your appointment will take a little time, so remember to pop to the loo and pick up a mask before leaving the house.
On arrival, you will be greeted, asked to use hand sanitiser and someone will take your temperature using a temperature reader held close to your forehead.
You will then be ushered into a reception area where you will be asked to complete a form - try to remember to bring along your glasses, if you need them. Pens will be available though you may wish to consider taking your own.
Next you will be seated to complete your form and wait to be called for your vaccine. Perhaps take along a book to read - this will also give you something to lean on to complete your form if needed.
Seating will be socially distanced and if needed, you will move down the queue seat by seat.
The vaccine will be injected into the top of your arm, you have a choice whether that's the left or right. Make sure you wear clothes that give you easy access to that area, whether it's a jumper or shirt that sleeves can easily roll up or a wide necked top that can pull down.
Once you have had your vaccine, you will be given an information leaflet explaining about the vaccine and how you may feel over the coming days. You will also be asked to sit for 15 minutes in a waiting room to ensure you have no reactions. Seating in the room is socially distanced, so sit back and relax until you are told that you can leave.
When you are able to leave, remember to take your advice leaflet with you and put your vaccine card somewhere safe, then head home for a cuppa and a relax.
Some things you may want to consider:
pop to the loo before leaving the house
bring a mask
pack a bag with glasses, pen and a paper or book
Happy vaccine day 😊
Advice from The Department of Health and Social Care