'A friendly voice at the end of the phone'

We are proud that our Phone Friends service has been listed as a finalist for the Charity and Community Award this year as part of the Cherwell Business Awards.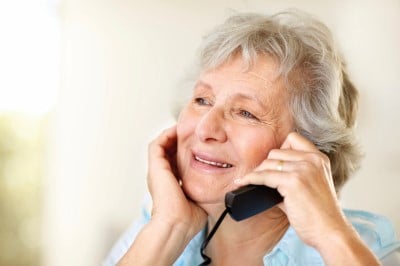 Not having someone to talk to regularly can be lonely and isolating, particularly if you're used to sharing your home and time with others. A friendly chat on the phone can make all the difference.
Phone Friends is our confidential telephone befriending service for people aged 50+ who feel lonely and would benefit from a regular, free friendly chat.
Every week our volunteers phone many older people and have a good chat with them. We phone at the same mutually convenient time each week and over time our volunteers build up a friendship with each person. By listening as well as talking our volunteers can provide information and help for all kinds of things in addition to signposting to other services and offering support. Together our volunteers are making over 20,000 phone calls each year.
Currently over 400 lonely and isolated people in Oxfordshire are receiving at least one call a week from a caring, friendly and committed team of Phone Friends volunteers. We have received lots of positive feedback from those who have used the service about the benefits it brings to them.
Any person aged 50+ in Oxfordshire is eligible to use the Phone Friends service if they feel that having a regular phone call would make a difference to them.
How Phone Friends works
You can refer yourself to this service and we also take referrals from doctors and professionals, friends, family, neighbours or anyone who is concerned. Simply ring Paula on 01295 234 850 or email phonefriends@ageukoxfordshire.org.uk
Since March 2020 and due to the Covid-19 pandemic we are experiencing significantly high demand for this service and so a waiting list is, at present, in place. We are endeavouring to respond to all requests for a regular call as quickly as we are able.
Once a referral has been made, you will be matched to a suitable volunteer who will phone at an agreed suitable day each week or fortnight, at a set time. All calls are free to recipients.
Phone Friends can also offer peace of mind to friends and family members: if a scheduled call is not answered, we are able to contact your friend or family member to let them know.
Volunteer with Phone Friends
We need your help! Since March 2020 we are experiencing significant demand for this service and need to further build our team of volunteer phonefriends. We expect this demand to continue to grow moving forward.
Are you a friendly person who is happy to chat on the phone?
Have you got an hour or more to spare each week?
We are always looking for people to join our Phone Friend's team. Calls are made from your own home. We provide full training and reimburse out-of-pocket expenses.
If you can commit some time on a regular basis (phonecalls can be made Monday-Friday at evenings or weekends on a weekly or fortnightly basis) you can help to make a real difference to the lives of people in Oxfordshire who feel lonely.
Please note that to become a Phone Friends volunteer you will need to complete the application form below and return it to us at volunteering@ageukoxfordshire.org.uk or by post to our office at 9 Napier Court, Barton Lane, Abingdon, OX14 3YT. We will then send you some more information and be in contact to chat the role through with you. We will then offer you a 1 hour virtual session with our co-ordinator Paula along with other volunteers so that you can learn more about the service, feel part of our team and hopefully be inspired.
To express an interest in volunteering, please fill out our volunteering application form.
Support Phone Friends
Phone Friends is an unfunded service that relies on funding from local groups and businesses in order to run. If you are interested in finding out more about how you can help to support this service financially please contact Ruth Swift at ruthswift@ageukoxfordshire.org.uk or ring 07827 235 404.
Contact us
If you would like to know more about our Phone Friends service, make a referral or find out more about how you can join our team of volunteers, please contact the Service Coordinator, Paula, on 01295 234 850 or email phonefriends@ageukoxfordshire.org.uk.