Online Activities and Events
A number of our social groups are currently meeting online and which you are welcome to join.
Local History and Heritage Interest Group
Online zoom session - Saturday 1st May at 10.00am
To join the session - the zoom link is: https://us02web.zoom.us/j/83397661518
The waiting room is open from 9.45am.
Gardening
How to make a Hanging Basket - the video was made by and features Dave Fell, Volunteer at Critchley Community Hub
Writing Group
Each Wednesday, the writing group - Swit'CH who normally meet at Critchley Community Hub are meeting online. Each week, the group is set a task with compositions to read out to the group the following week.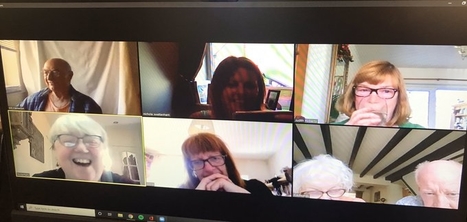 The group are currently composing uplifiting stories about lockdown and which will be published. The group recently featured on the Age UK Website where you can read more about them.
If you would like to join the group and get involved, please email: nicholaswettenham@ageuksalford.org.uk.
Poetry

Jo Williams has put together some poetry packs to share.

Jo has also used her poetry to share her experiences of being a carer and you can read her Poem for Carers on the Talking About My Generation Poetry Corner.
Download:
Poem Pack to read, share and enjoy
Poetry Activity Pack to have a go and enjoy writing your own poem.
Baking and Cooking
Critchley Community Hub - Weekend Chef, Sally shares her simple Mac and Cheese Recipe.
Sally's Mac and Cheese Ingredients
See the ingredient list and method and some ideas of how to make a fortified version.
Chef Tony from Critchley Community Hub demonstrates how to make soda bread.
Tony's Soda Bread Recipe Ingredients and Tips
See Tony's recipe and some tips and ideas of sandwich fillings.