Stockport Community Champions
Interested in giving something back to your local area? Become a Community Champion in your neighbourhood?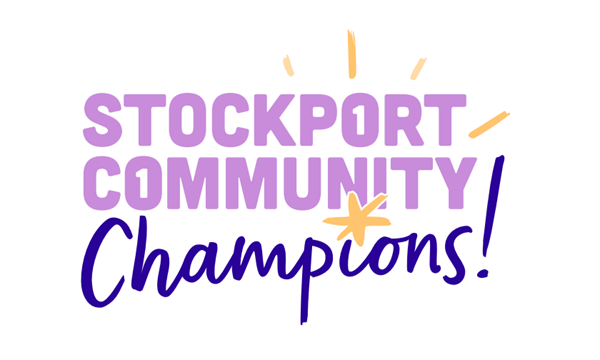 Age UK Stockport is part of a network of organisations helping to identify Community Champions across Stockport.
As a Community Champion you will be helping to connect with people whose health and wellbeing has been most affected by the Covid-19 pandemic and helping to keep people safe.
We would be delighted to hear from you – if you would like to volunteer you can Click Here or to find out more contact info@ageukstockport.org.uk or ring 0161 480 1211
More About Community Champions
Age UK Stockport is proud to have been selected as one of a number of organisations who will be working in partnership with Stockport Council, and the local community, to deliver the ambitious Community Champions programme.
This is a boroughwide project that will connect with people who have been most at risk from Covid-19 or the effects of the pandemic, to reduce the impact of the virus on themselves and those around them. Importantly this recognises and includes 'at risk older people'.
Age UK Stockport will be using its influence, connections, relationships and resources to help identify, recruit and train Community Champions who are able to:
Ensure Stockport's communities receive correct and consistent information about COVID-19 and wider health and wellbeing issues.
Equip individuals, groups, and organisations with the skills and knowledge they need to enable them to confidently pass on information about COVID-19 and wider health and wellbeing.
Ensure insight and views of people and communities are understood and influence messages and plans for COVID and wider health and wellbeing.
All of the organisations involved (see below) will collaborate via a Network to share knowledge, learning and experience. A Code of Conduct has been developed which will underpin the way that Community Champions will work and all participants will be asked to sign up to this before starting in their role.
An Essentials Training programme has also been developed and this will form the induction which all Community Champions will be required to complete. This training may evolve over time based on feedback and should there be any substantial change in government guidance. …
Age UK Stockport will deliver training itself to those Community Champions who come and join us in this exciting community role. All participants will receive a certificate on completion of the training. There is also the opportunity to take advantage of additional training through Stockport College, Starting Point and through Stockport Council's Learning Pool.
Throughout the life of the project, monitoring information will be collected so that the ongoing effectiveness of the project can be measured.
The project will be promoted widely over the coming weeks and months and enquiries/expressions of interest are welcome from anyone who feels that they are able to contribute.
The network of Community Champion organisations includes:
Age UK Stockport
Disability Stockport
Seashell Trust
Signpost for Carers
Starting Point
Stockport College
Make a Difference/Heaton Norris Community Centre
Pie Radio/Rising Stars
Pure Innovations Stockport Race Equality Partnership (S-REP)