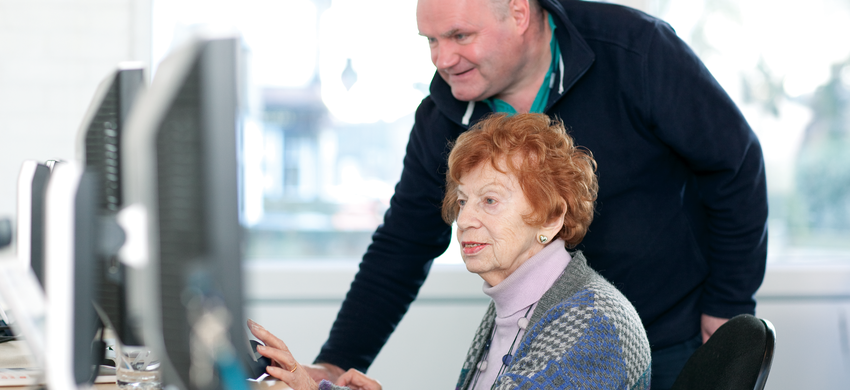 Age UK Stockport relies on volunteers to help us offer vital services in the local community. Would you like to lend a hand?
If you would like to find out more about volunteering for Age UK Stockport before applying give us a call to have an informal chat on 0161 480 1211
We would like to share these video's with you from two of our wonderful Volunteers along with some amazing statistics about Volunteers across the UK.
If you are interested in becoming a volunteer we would encourage you to read our General Guidance sheet for all volunteer positions.
Volunteering roles with Age UK Stockport
Could you help a lonely older person in Stockport?

Step Out day volunteering helps support fun and activities in our daycentres in Stockport.

Could you help us to provide vital information and advice to older people in Stockport?
Planning, preparing and carrying out a range of varied events and activities for Age UK Stockport, Events Engagement offers particularly flexible volunteering opportunities.

The role offers good volunteering opportunities covering the two offices, and involves responding to all callers positively, directing within Age UK Stockport as appropriate or signposting where necessary, and also assisting in basic enquiries.
Why volunteer with us?
Age UK Stockport believes that age needs respect. It needs kindness. Sometimes it needs help. We use our specialist knowledge and over 25 years of local experience to deliver a wide range of support and services. All we do is designed to encourage choice, independence and wellbeing in later life.
Our volunteers' time, knowledge and commitment is essential to supporting many local older people. Volunteering with Age UK Stockport gives you the chance to have a great time whilst helping others. Whether you have a lot of time or a little, there are volunteering opportunities available.
As a volunteer, you can
Work with groups or with individuals
Work in the office, behind the scenes
Support events or fundraising activities
Work with groups or individuals
Work in the community with the public
Use professional, practical or technical skills
What you can gain as a volunteer
Gain new skills and experiences
Meet new and interesting people
You can claim out of pocket expenses
Access appropriate training
Enhance your CV
Work with the backing and support of a professional organisation
Insurance cover
Have a good time!