TPA Update
Over recent weeks we have had to make some changes to the way we work. Being able to continue to deliver our TPA service, whilst ensuring the safety of all of the people who access the TPA, and that of our teams continues to be our top priority.
Thankfully, we have been able to adapt our usual approach of face to face contact with video calls whilst offering regular telephone contact. This means we have been able to stay in touch with everyone who was already in contact with the TPA, and we continue to take on new referrals.
We have been working hard to ensure people have access to essentials like food and medication and we will continue to work with partners to provide practical help in communities across Stockport.
Pressures at home can escalate whilst we are all isolating and we are seeing an increase in people experiencing domestic abuse. We work with people who are experiencing domestic abuse, and those who want to change their own behaviour to develop healthier relationships.
As always we are here to help people feel more connected. For people that are feeling lonely, we are able to offer regular contact with someone from the TPA team or through our trusted partners and volunteers in Stockport.
Community groups have struggled to meet up – these groups play such an important part in connecting people and improving health and wellbeing. We are helping by facilitating virtual groups online so that people can stay in touch and support each other.
We continue to work in partnership with organisations and groups across Stockport to ensure that we can co-ordinate resources and ensure people can access the help that they need.
Digital solutions are a great way of keeping in touch with family and friends whilst we stay safe at home. We are able to help people access digital skills and equipment to help them stay connected. We continue to update our website and social media with resources that people may find helpful during these challenging times, it is great to see how many people are accessing these resources.
We will keep our website and social media up to date with our latest developments.
Please stay safe, and do not hesitate to get in touch in any of the following ways:
Phone – 0161 474 1042
Email – info@stockporttpa.co.uk
Website – stockporttpa.co.uk
Deaf community – 07539 468 560 BSL Video about our continuing service
THE PREVENTION ALLIANCE
Stockport TPA is here to provide a service to anyone that wants to make change happen in their lives.
This might be something like getting some advice or being given contact details, or it might be something that requires a bit more time, like working out a plan of how you want to overcome difficult or overwhelming things in your life that you think will help you to move on.
Our Vision is to empower people, connect communities and improve lives. This is what we are fundamentally trying to do.
Our Values are genuine, creative and together. This challenging set of values underpins all of our work and our relationships, both within and outside the Alliance.
We provide proactive and early support for anyone who is vulnerable due to their health, wellbeing or situation, with the aim of enabling and empowering you to work towards independence, whatever that may look like for you. Its all about your:
-Physical wellbeing
-Financial wellbeing
-Mental wellbeing
-Connection to your community
-Housing situation
TO CONTACT THE PREVENTION ALLIANCE:
Here at Stockport TPA we believe in talking as a good way of starting our work together. Therefore our preference would be that you telephone us for a chat, so we can get to know a bit about you and talk properly about how we might be able to move forward.
Phone us: 0161 474 1042
Text us: (for people with sensory loss) 07971 237496
Email us: info@stockporttpa.co.uk
Meet us: Stockport TPA, 45 St Petersgate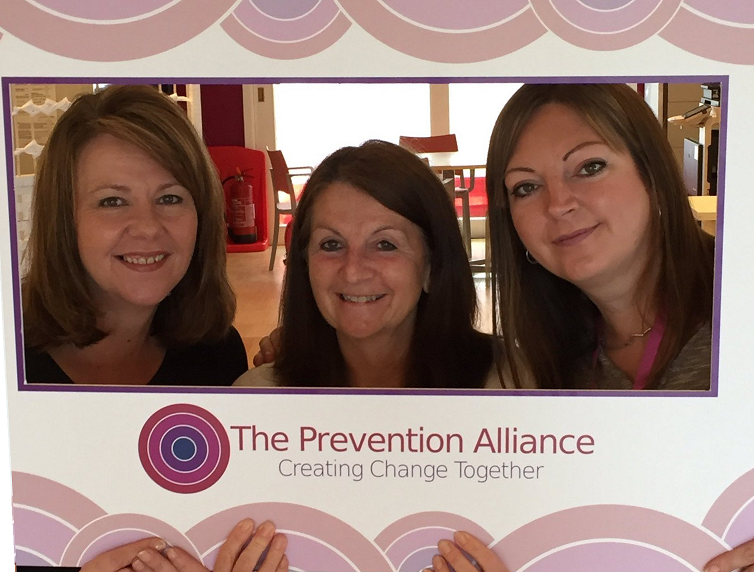 More about the Prevention Alliance
The service is delivered through an alliance of organisations working in partnership with Stockport Council:
3. Nacro
4. TLC: Talk, Listen, Change Stockport
6. Threshold (part of New Charter Housing)
The difference with an Alliance is that our commissioner, Stockport Council, is also a member of the alliance partnership. We have two members of staff from the Council on our Alliance Leadership Team and they share an equal relationship with everyone else on that team.
Why are we an alliance?
Through working as an Alliance, we bring together all the knowledge, skills and experience of our different organisations. We can provide services that are more joined up and more consistent, and we can work with people at the right time, not just when things get to a crisis point. Our aim is that our partnership will result in a quicker, smoother, more effective and more positive experience for the people we work with.
What do we do and how do we do it?
We provide proactive and early support for anyone who is vulnerable due to their health, wellbeing or situation.
We work with people in the ways that are outlined on the front page of this website, with the aim of enabling and empowering them to work towards independence, whatever that may look like for them.
To start with we usually have a conversation with the person we are working with, which involves a lot of listening rather than carrying out an assessment on them or bombarding them with questions. We believe in starting with what is good, what a person can offer or bring, acknowledging that sometimes this can be hard for someone in a challenging or difficult situation to see for themselves.
Then we look at creating a plan of action together in order to help us both agree what needs to happen and who will do what. All the time we focus on assets and opportunities.
We will ensure a smooth transition into another service if for whatever reason we feel that the TPA cannot do what that person requires. We will also work alongside other services to complement them (rather than replacing) if that is what the person feels will work best for them. A key part of this type of arrangement is communication, and we focus on making sure the person we are working with (and the other services) are fully aware at all times of who is doing what and why.
Why are we doing it?
We are doing this because we believe in healthier, happier and stronger communities, full of people who are independent and self-sufficient to a level most appropriate for them.
We know that statutory services are in increasing demand, and where possible and appropriate we want to prevent people from needing to access those already stretched services.
We will do this by empowering people to find their own solutions either within themselves, within their own communities and support networks, or through support from one of our team so that they are then equipped with all the contacts, support, resources and experience they may need in the future.
TPA is about making sure people can become resilient and independent rather than needing to go back to services over and over again, which can be difficult for everyone involved.
TPA values diversity and we aim to provide services and opportunities that are tailored to meet the needs of each individual we work with. We will make sure that no person or group working with us will be treated less favourably than any other person or group because of their individual characteristics