Walking Football helps transform former Radstock Mayor's life
Published on 28 January 2019 02:31 PM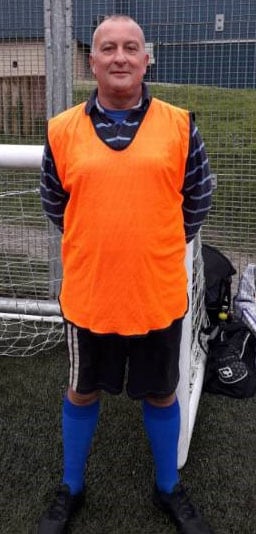 Keith Tyrrell had always worked tirelessly for his community as a ward councillor in Writhlington, and as the first ever Mayor of Radstock Town Council he was dedicated to serving the town. He was confident, energetic and 'led from the front'.
However, a hereditary heart condition and a double coronary bypass that followed had a 'catastrophic' effect on both his physical and mental wellbeing.
"Apart from the level of pain I experienced, which my doctors described as like being hit by two or three buses and the fact that I struggled to walk, I also lost all confidence," says Mr Tyrrell. "I didn't want to be in crowds and could barely speak. I felt alienated from everything and couldn't see a way forward. I just sat in my chair on the verge of depression."
It was only when he was finally started his cardiac rehabilitation programme several months later that he began to feel he needed more to aid his recovery and turned to Age UK B&NES' Walking Football. "I'd always been a football fanatic," says Mr Tyrell, who played in Portsmouth FC's youth team, "but I was worried if I would be able to turn things around."
Feeling 'nervous and awkward', Mr Tyrrell attended his first session in Midsomer Norton. "I wasn't my normal self-confident self and I didn't know anyone there," he says, "But I was immediately accepted into the group."
Out on the pitch, he initially found it difficult to adjust to the rules – particularly walking rather than running, as well as staying upright. "I fell over a few times, and my muscles felt like they wanted to explode out of my thighs. After so many months at home, my body just wasn't used to that level of exertion!"
At first Mr Tyrrell played once a week, but within a short space of time he was attending twice a week. "Walking Football has helped me beyond anything and I feel I'm back to my old self now and at the top of my game," he says. "My fitness levels have risen and I've lost about half a stone in weight. Mentally I also feel sharp and I'm happy to stand up in a room full of people and talk to them."
"The camaraderie is superb," says Mr Tyrrell. We're all seniors and have experienced the pain of illness, bereavement, divorce and so many other things. We exchange stories and support each other. We all enjoy it and play to win, but if someone is injured then we stop the game and make sure they're ok – we all care about each other."
Now so inspired by the beautiful walking game, Mr Tyrrell's ambition is to play at national level. "I want to play for the England Walking Football team. I'd like to progress to that.
"I'd like to do more now and feel I have more to offer," he says. "Age UK B&NES' Walking Football has brought back the boy in me and I would recommend it to anyone – whether they've tried it before or not. It doesn't matter what skill level you have before you start, you've got nothing to lose. Just do it!"