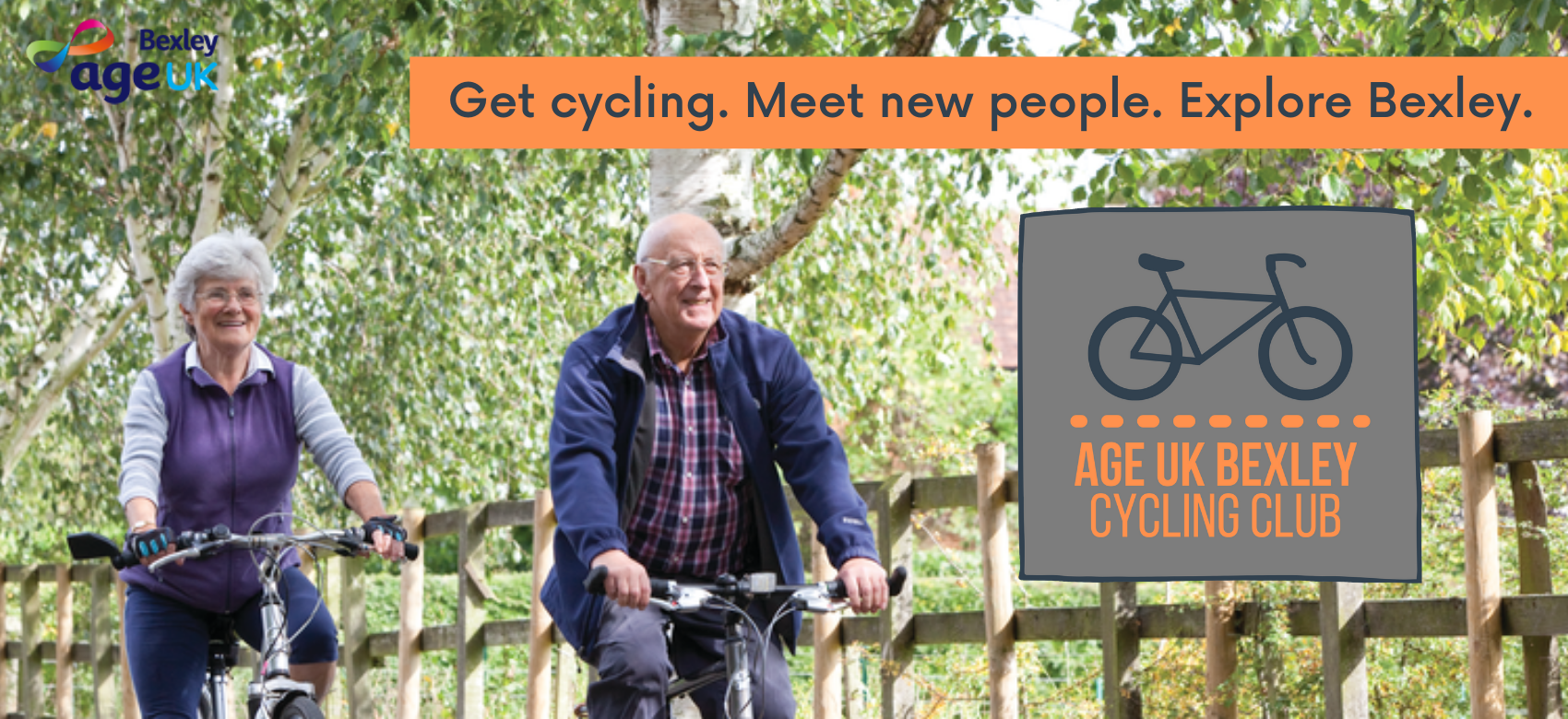 Welcome to our new Cycling Club
We are really excited to be launching our new Age UK Bexley Cycling Club! The club's activities will include weekly group rides and maintenance workshops, aimed towards the over 55s.
We'll be using our Men in Sheds project as a base, where we have the equipment to repair and maintain neglected bikes. We'll also be running regular cycling events through specially selected routes.
So what are you waiting for?
Who can join Age UK Bexley Cycling Club?
Age UK Bexley Cycle Club is aimed towards those over the age of 55. Whether you are new to cycling, want to get back on the bike, or have been cycling for years, this is the club for you!
Rides will go at a pace and distance that suits the whole group. You will need a road worthy bike and we strongly recommend wearing the right safety equipment, such as helmets and reflective clothing, to participate.
What are the health benefits of cycling?
Adding any physical exercise to your weekly routine it great and cycling in particular is a great cardiovascular workout that puts less pressure on your joints and can improve balance. Cycling can be great for improving mental health too, by getting out of the house and taking in some fresh air. Our club also provides an opportunity to socialise and meet new and like-minded people.
Where will the rides take place?
Our weekly Friday morning rides take place in Erith, Thamesmead and Slade Green. There is a route schedule in place, which riders will have access to after registering.
Where possible, the rides will be using cycle paths and traffic-free roads. Each ride will be led by an Age UK Bexley volunteer and afterwards there is a tea and coffee break.
How do I join?
To get involved, please call our main office on 0208 300 0883 or fill out our online form to register your interest in joining.

Are you 'Bike Ready'?
If you are completely new to cycling and want to build up to our weekly rides, explore the resources below to test, your cycling safety knowledge and get yourself and your bike ready
Get yourself ready
If you are feeling a little out of shape and want to build up to our weekly rides, why not challenge yourself to get fitter at home? This could be done by completing low impact workouts or going on daily walks.
Check out the links below for advice and basic exercises you can do at home to improve your strength, balance, flexibility and general fitness.
NHS Live Well
Here are exercises and top tips and on how to incorporate more physical activity into your lifestyle:
Exercise advice for older adults
We are Undefeatable
Check out We are Undefeatable's helpful five mini workout tips here - or you can find more great exercise tips on their website.