Take Five to Age Well
Published on 30 August 2023 11:51 AM
Age UK Bolton are supporting Take Five to Age Well, a mission by the Open University.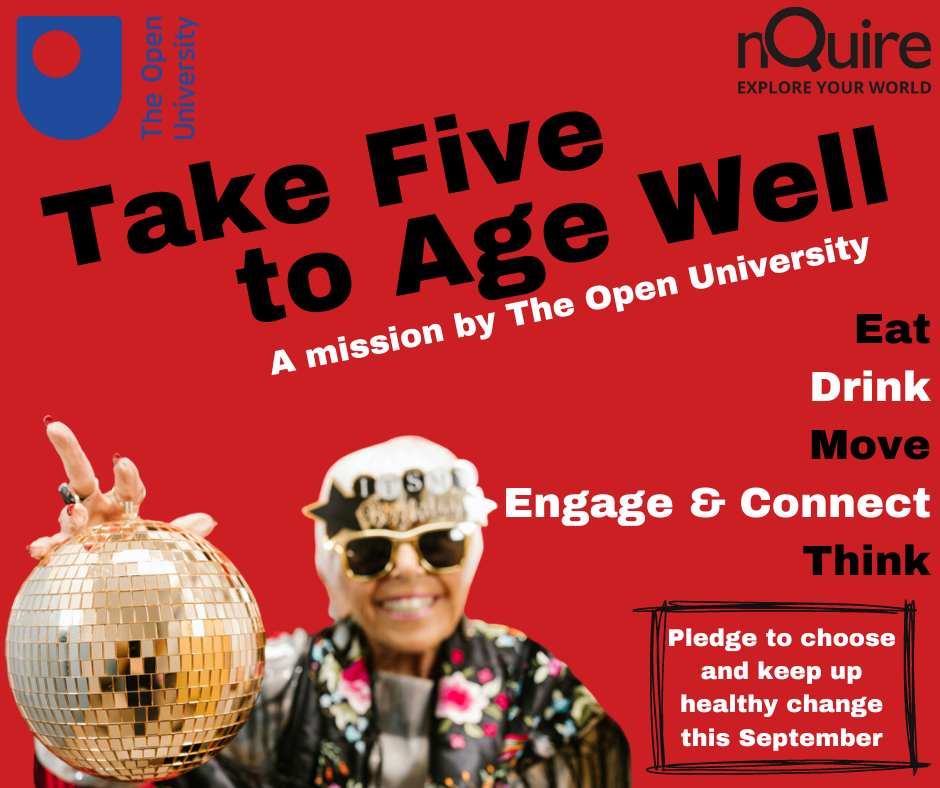 From 1st September, The Open University is launching a free, UK-wide public health campaign: Take Five to Age Well. Taking place during the UN's Decade of Healthy Ageing, the campaign invites you to join a community making small daily changes for better ageing across 5 categories:
Eat
Drink
Move
Connect
Engage and Think
Sign up online and commit to 30 days of healthy ageing habits that will boost your health and well-being now and into the future.
The campaign invites you to join a UK-wide community making small changes in your daily routine for better ageing. You are committing to choose and keep up these healthy change(s) for one month.
Most people want more time on Earth in good health and research tells us there are lots of easy habits that can help you to stay strong, sharp, independent, and feeling good; we know that 70-80% of the ageing rate is determined by environmental factors. Take Five to Age Well will empower you to adopt small changes throughout September that will genuinely impact your health and well-being.
All our content is evidence-based and expert-led, helping to bring a lasting positive impact. We will offer various support channels including regular emails and a reminder WhatsApp 'coach'.
This is open to everyone - ageing well research suggests "the sooner the better but never too late" to adopt these habits - why don't you sign up today: https://nquire.org.uk/mission/take-five-to-age-well