Act of Kindness
Published on 19 June 2020 12:54 PM
We see our volunteers going the extra mile to help those they support.
One volunteer, Clare, speaks to Ted on a regular basis and found that he was in need of a new ramp to enable him to get in and out of his house safely.
Read the story below:
I am a befriender to 3 people. One of them is called Ted.
He is unsteady on his feet and he relies on his mobility scooter for his independence. When I first contacted him he was really down, he wasn't confident getting his scooter out of the house as the ramp he relied on was rotten. He was therefore rendered housebound, and isolated
Unfortunately no one at social care could help at this difficult time. So, I hatched a plan. Using safe distancing, I called on Ted to inspect the ramp and carefully took measurements.
My husband did a drawing from my measurements and the pictures I'd taken. We then gave it to our neighbour, Jeremy, who was having some new decking installed at one of his restaurants. Jeremy kindly asked his joiner if he could build a new ramp.
A few days later Ted's ramp was complete! I went to install it - the look on his face was sheer joy. He insisted on paying for it but we told him it was a gift from us.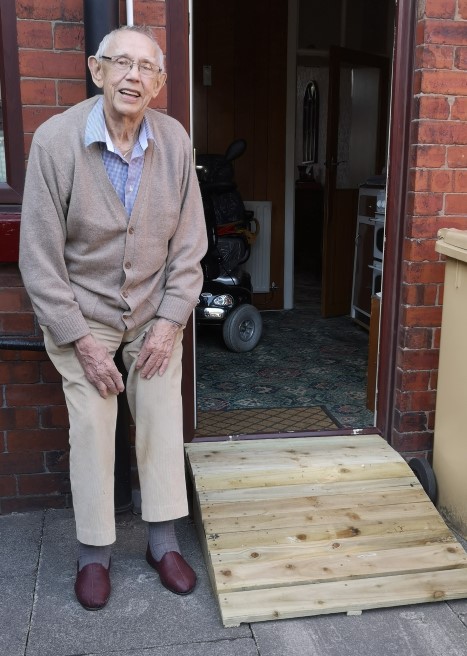 This was all made possible by a real team effort and from everyone involved and will hopefully make a small but important difference to Teds life.
"Volunteering for Age UK Bolton as a befriender has been a hugely rewarding experience for me personally. It's not much making a few phone calls a week, but I hope just making contact with someone who may be feeling very down, isolated and fearful of the world has made a difference. It's not only taught me a lot about how loneliness and depression affects people, but also how to be tolerant, patience, and it has improved my listening skills - all skills I can put to good use in my job and life in general.
I've experienced a real generosity in spirit & a team effort - people pulling together to make things happen at this difficult time. Random acts of kindness I've not seen before. I would say in some ways society is a much nicer place because of this recent crisis. I hope the same spirit of volunteering & helping each other continues in the future."