Age UK Croydon joins #GivingTuesday 2020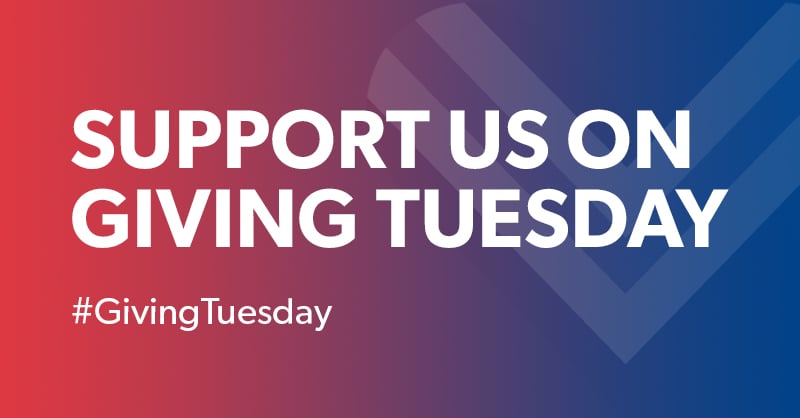 Published on 25 November 2020 11:34 AM
Age UK Croydon joins #GivingTuesday 2020, the global day of generosity taking place on 1st December.
Age UK Croydon is thrilled to announce that we're one of the thousands of organisations taking part in this year's #GivingTuesday campaign, to be held on the 1st of December.
Brought to the UK in 2014 by the Charities Aid Foundation (CAF), this year #GivingTuesday offers the opportunity to #GiveBack2020 either by donating to charity, reaffirming commitment to a cause, volunteering time or supporting others by simply helping a friend, neighbour or family member.
In 2020, the global Covid-19 pandemic has caused dramatic repercussions around the world. According to CAF research, charities have reported a significant increase in demand for their services while more than half (53%) have suffered a drop in donations. Charities estimate they will see a £10bn funding gap and without help many may be forced to close their doors.
At Age UK Croydon our vision is a Croydon where everyone can love later life. Our mission is to lead the way in empowering, enabling, supporting and connecting older people in the London Borough of Croydon to live well, healthily and independently.
With services spanning information and advice, financial advocacy, health, wellbeing, falls prevention, dementia support, one to one personal independence coordinators, home from hospital support, befriending and social activities, Age UK Croydon offers a holistic solution for older people to access the services they require in one place.
In 2019 #GivingTuesday was the top trending item on UK Twitter and generated more than 487m impressions. In the UK, more than £14.2 million was raised in online donations (via Visa alone), equivalent to almost £10,000 per minute.
Jill Kyne, CEO (Interim) Age UK Croydon said: "While staff, volunteers and the community have pulled together to continue to support older people across the borough in this time of crisis, the financial stability of the organisation has been affected. Giving Tuesday is a great opportunity for people to support our much-needed work."
Gráinne Mathews, #GivingTuesday UK Lead at the CAF, adds: "Charities have given us so much this year, from vital food deliveries during lockdown, to developing new ways to deliver services so they could continue to help those in need; all while struggling themselves with cancelled fundraising events and closed charity shops.
"This #GivingTuesday charities need us to be there for them, like they've been there for us. It is time to #GiveBack2020. It's easy, just think of what you have - money, a voice, family, friends, followers, or time - and how that might help."
To find out more about #GivingTuesday, and how you can get involved, visit: http://www.givingtuesday.org.uk/
Age UK Croydon's Festive Campaign
Now, more than ever, Age UK Croydon needs your help this Festive Season. The past year has presented us with challenges none of us expected. It has been a time of great anxiety for everyone, but especially for older people and their loved ones. We are determined to be there for older people who need our help and especially for those who have no one else to turn to. By donating to Age UK Croydon this Festive Season, you will help us to reach the older people that need us most.