Celebrating Older People's Day!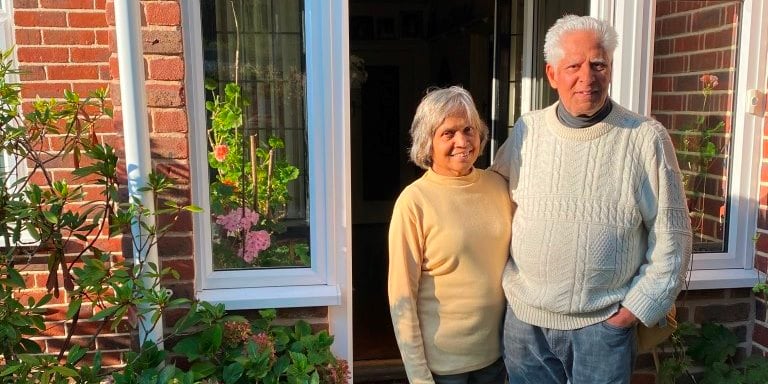 Published on 01 October 2020 10:30 AM
International Older People's Day takes place annually on 1 October, celebrating the interesting, varied and wonderful lives of older people.
We interviewed Sebastian and Rose to hear their story.
Sebastian was born in Kenya, and spent part of his childhood in Tanganyika (now Tanzania). He was born into a Goan family, and he was sent to boarding school in India. Here he was homesick, but he enjoyed playing hockey.
He completed his O' Levels in Tanganyika, and was then sponsored to travel to the UK to study. Here he completed his A' Levels, and then went on to study at the School of Pharmacy in Leicester. In addition to his studies, he also played hockey for Leicester.
While studying to become a pharmacist, he needed to supplement his income, and so did Saturday and holiday work in Boots in Leicester. This company, of which he speaks very warmly, then offered him work in London. Sebastian said: "The company offered good training for young pharmacists, and cared for their employees, so we decided to move".
In London he worked as a relief pharmacist, moving around different branches, eventually moving out to Sheerness on the Isle of Sheppey, where he was the pharmacist and manager for nine years.
After working for Boots for many years, Sebastian bought a pharmacy in Rainham, Kent, and ran this successful business for thirteen years. At the same time, his wife, Rose, with whom he had two children, retrained as a teacher having previously been a nurse and midwife.
At the age of 60, Sebastian decided to retire; he sold the Rainham pharmacy to Boots and moved to with his wife to Cambridgeshire and then to Purley, to be near his daughter and grandchildren. He has lived happily in the UK for fifty years.
Special thanks to Sebastian and Rose for sharing their story.
Interview conducted by John, Volunteer at Age UK Croydon
International Day of Older Persons
Did you know that International Older Person's Day is a United Nations initiative which aims to acknowledge and raise awareness of the needs of an increasing older population? And that 2020 marks the 30th anniversary of this important event? You can read more by clicking the link.