Zing my Zimmer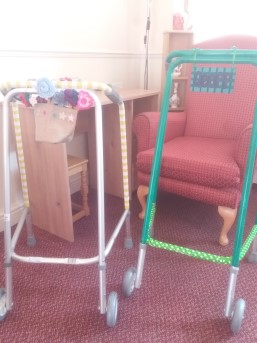 Published on 23 December 2018 12:00 PM
Zing My Zimmer
'Zing My Zimmer' is an Age UK Derby and Derbyshire project that mixes a falls prevention scheme with arts and crafts with residents of care homes in Erewash. The sessions are fun and enable the worker to have long chats with the residents who are taking part. Families, friends and staff are welcome to join in too, which makes it a very sociable experience.

Zinging Zimmers is uses a variety of materials to decorating each resident's Zimmer frames, sticks and tripods (and any other type of walking aid they may have), to make them personalised and stand out. This helps the residents to identify which walking aid is theirs, as normally they all look identical. Using the wrong size frame could and does often lead to accidents and the idea is to help stop that from happening. It also encourages residents to be more active by wanting to walk around showing their zinged walking aid off.

The residents are asked what their hobbies and interests are as well as their favourite things, like colours, places and animals.
The walking aid is then decorated to suit their tastes. One lady said that her favourite thing to do used to be sitting in her conservatory with her late husband looking out over a meadow of sheep. Her frame was decorated with a plaque containing grass, poppies and little sheep with her name on the back. The lady absolutely loved her customised little 'window' from home and newly zinged frame.

In another home near Breaston, two female residents are good friends and share similar interests
to each so theirs were done at the same time in similar styles using pink roses and sparkly green tape.
One lady in a care home in Ilkeston actually has two zimmer frames in separate rooms as she never remembers to use them. She initially didn't want any of them to be zinged but actually fell over because she wasn't using a frame. Once the frame had been decorated, she was so happy and paraded round the room several times. The staff were really pleased too!
The manager and activities coordinator of Longmoor Lodge in Sandiacre wrote a brilliant article for Care Choices about the project, www.carechoices.co.uk/zinged-zimmers-reduce-falls/ . Home manager Samantha Ely said: "Geoff has limited mobility and we are currently encouraging him to do more. As soon as we gave him back his green jazzy frame, which he chose all the colours for, he instantly got up to give it a try." There are some further case studies on our facebook page (@AUKDD)

Zing My Zimmer Project Worker, Emma Richards, states that "Each home that has been visited has been very welcoming and friendly. Residents and staff have all been really keen to carry out this fun project in their homes, which is fantastic and making a big difference". The service is great socially, for health and safety and for self-confidence. So far this project has been proven to reduce falls in care homes up to 60%, which is amazing.
More information about our work