Knit and Knat 2019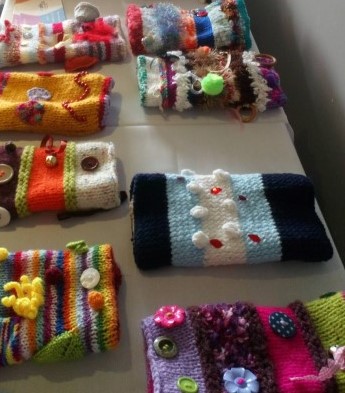 Published on 21 October 2019 10:57 AM
Ann and Arthur's Big Knit and Knat 2019
Age UK Derby and Derbyshire's, 'Ann and Arthur's Big Knit 2019' was launched in June of this year and finished on International Older People's day October the 1st with a celebration event at the Holiday Inn Riverside where we were joined by Derby's much-loved Mayor Cllr Frank Harwood.
Whilst the event was to raise much needed funds to help us provide our services for Older People living in Derby and Derbyshire, this year our Knitters knitted Dementia mitts and we now have loads to give away for free. The mitts will be distributed amongst anyone with dementia regardless of age, through organizations, clients and our Age UK Derby and Derbyshire shops. 
If you have a family member or you're a carer or a care home and have someone with dementia and would like a free Dementia mitt please let us know by phoning Angela Barnes on 01332 343232 or emailing Angela or Liz at the email address below with your name and the area where you live. We will then arrange for a dementia mitt to be sent to your nearest Age UK Derby and Derbyshire shop where it can be picked up.
The mitts will be limited to one per family or four per care home and given out on a first come first served basis. We will be keeping a list of names of anyone who misses out on a mitt as our knitters will continue to knit the mitts throughout the year and these will also be given away for free. With our Knitters keen to keep knitting there will also be the opportunity to have a bespoke mitt knitted in your favourite colour or your football club colours, for a small donation.
If you'd like to take part in next year's 'Ann and Arthur's Big Knit and Knat 2020'or want more information call Angela Barnes 01332 343232 or email Angela and Liz at knitknat@ageukdd.org.uk 
How the name came about...
Ann loved to knit and was an exceptional knitter who over the years accumulated lots of wool. After her death her husband donated that collection to Age UK Derby & Derbyshire. With his permission, and as a fitting tribute to her, we decided to call our annual knitting event Ann's Big Knit. Sadly, this year Arthur also passed away and so in memory of both Ann and Arthur and with the permission of their family we are called our annual event 'Ann and Arthur's Big Knit 2019'

To donate: click on the Virgin Money Giving link below:
http://uk.virginmoneygiving.com/fund/aukddknit
More information about our work