Duck race 2022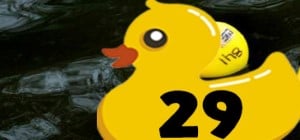 Published on 05 November 2021 12:25 PM
BREAKING NEWS
Unfortunately, due to the increasingly complicated situation with Covid, we have made the difficult decision to cancel the Duck Race on January 1st 2022.
This will be another big loss of income for the charity but it is important that everyone stays safe.
For those who have bought tickets online, they will be automatically included in the replacement prize draw.
Tickets were on sale until 10pm on 31st December but unfortunately tickets sales are now closed.
The draw took place at 2pm on the 1st January. Winners were randonly chosen and will be contacted by email.
We look forward to seeing you at the the real live duck race next year. Thank you for your support.
Winning tickets:
The Corporate draw was won by: RLTP Accountants
The winning tickets for the main draw were:
56, 112, 45, 53, 201, 78, 157, 218, 128, 72
More information about our work