Smart Meters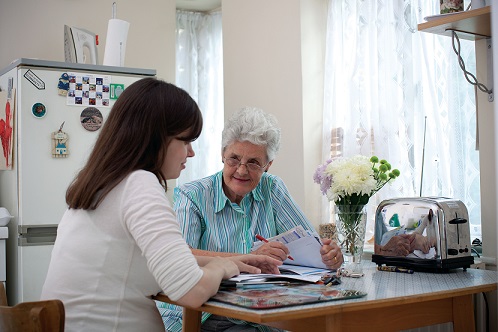 Published on 17 August 2021 02:00 PM
Get Smart - Smart Meters
Age UK Derby & Derbyshire has partnered up with Smart Energy GB to give older people across the East Midlands access to the facts about smart meters.
Smart Energy GB is the not-for-profit, government-backed campaign helping everyone in Britain to understand the importance of smart meters and their benefits to people and the environment.
Their national campaign is reaching homes and microbusinesses across England, Scotland and Wales. For more information visit www.smartenergygb.org.
Age UK Derby & Derbyshire is here to help you make an informed decision about whether to have a smart meter fitted. We're here to give you more information, answer your questions and hopefully, dispel some of the myths around smart meters.
For more information, contact 01773 766922
Smart Meters – Your Questions Answered
What is a Smart Meter?
A smart meter is the next generation of a gas and electricity meter. They are being installed in homes across Great Britain at no extra cost, to replace the traditional meters including prepay key meters, most of us currently have ticking away under the stairs, or outside our homes.
Smart meters measure how much gas and electricity you're using, as well as what it's costing you and display this on a handy in-home display (IHD).
How do smart meters work? | FAQ - YouTube
Can everyone get one?
We're all entitled to a smart meter as part of the rollout. Some of us will have to wait longer than others to get our new meter, but you can ask your energy supplier directly to see if yours can be fitted now. How soon you can get your smart meter depends on your energy supplier, where you live, your current meter type and what kind of property you live in.
Do I have to get one?
Smart meters are not compulsory; it's entirely your choice. The government requires energy suppliers to offer smart meters to all homes and small businesses across Great Britain by the end of 2025, but whether you accept them is completely up to you.
Are smart meters secure?

Both the IHD and the smart meter operate without the need to be connected to the internet. Rest assured, smart meters operate on their own secure network, ensuring data is only visible to the energy supplier and authorised parties where consumer consent is given.
What are the benefits?
No more estimated bills: Smart meters enable accurate, not estimated bills – so you know exactly how much your bill should be, and how much to budget
Reduce energy bills: The IHD which you'll receive with your smart meter shows you, in near-real time, the amount of energy you use in pounds and pence. Allowing you to keep an even closer eye on your energy spending habits. This could help you find ways to reduce energy waste around your home and save money.
No more meter readings: Smart meter readings will be a thing of the past, that means no more going down into the cellar or squeezing yourself into cupboards! You'll only be pay for electricity you use, and there'll be no more estimated bills.
Smart metres send your gas and electricity readings directly and securely to the energy supplier so you don't have to – very handy!
Benefits to Great Britain: The nation's electricity needs are expectedto double by 2050, this means we need to upgrade our energy system. You could help Great Britain take a step in the right direction by installing a smart meter in your home. Smart meters are helping Britain save more energy and helping you save on your bills too.
Can I get one now?
Yes! Simply call your current electricity or gas supplier who can advise you how to get one fitted.
Eligibility may vary
Consumer action required
More information about our work