Falls prevention in care homes
Exercises at home
To help you keep active at home, our SNF team have put together a series of short videos with simple exercises to help improve your mobility, cardiovascular fitness, balance, strength and flexibility.
23/3/20 - Due to the outbreak of COVID-19 (Coronavirus), our falls prevention work in Care Homes are currently closed until further notice for the safety of all members and staff. We hope they will be open as soon as it is safe to do so.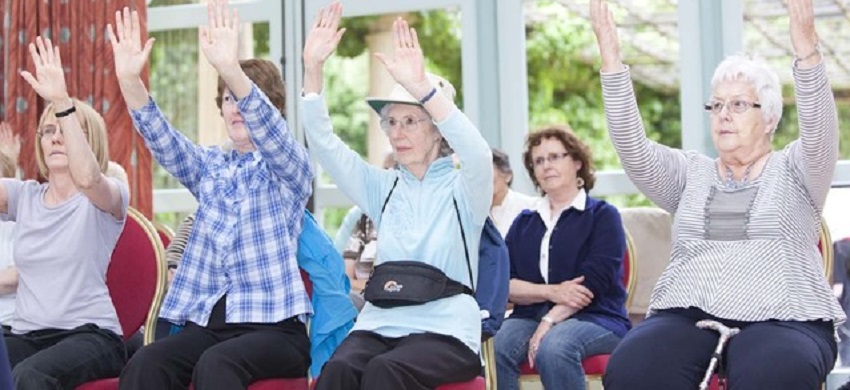 Strictly No Falling includes specialist support for Care Home and day service providers to improve the falls prevention activity they offer to residents or their local community. Care home residents are amongst the highest risk for falls yet are least likely to have access to regular, effective falls prevention activity.
Since joining a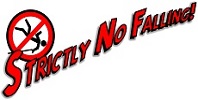 SNF class in the home, one of the ladies said: "My confidence has grown…. I can get outside into the garden, which is lovely to be able to sit on my garden bench, and to call round at my next door neighbours. It has stopped me from feeling so isolated."
What do we offer?
• Help and support to establish safe, effective and quality assured exercise sessions. This can include training for a member of staff to achieve a recognised qualification in Chair-based Exercise.
• Where exercise provision already exists, help and support to develop and progress the class.
• Quality assurance certification where the Falls Prevention Standard or Active Care Home Mark have been achieved

To find out more about the Falls Prevention Standard and the Active Care Home Mark, please click here


What are the benefits?
• Help to reduce the likelihood of falls, by improving the strength, balance and confidence of residents and service users.
• Improved physical abilities
• Maintaining independence in everyday tasks
• Improved mood
• Fun, social activity


Who can use the service?
• Care homes and day opportunities / services in Derbyshire (excluding Derby City)
How much does it cost?
• There is no charge for our advisors time
• There is an administration fee to be paid if a staff member is enrolled on the Chair-based Exercise course
How do I find out more?
For more information:
Call 07745 273 333 or 01773 766922
Homes and day services meeting the standard
The list below shows all the Care Homes and Day Services who have met the different standards. For contact details, click on the name of home/service for an external link to their website or a website giving their contact details.
To find out more about the Falls Prevention Standard and the Active Care Home Mark, please click here
Getting it right for you
We believe you deserve the best possible service and if that has been your experience, please let us know. If you feel our service has failed to meet the high standards you deserve and should expect please make a complaint. We welcome complaints which can help us learn and improvements can help reward good work and encourage others to strive for the best performance.
To make a complaint or compliment contact: Katy Pugh, Chief Executive, Age UK Derby and Derbyshire, 29A Market Place, Heanor, Derbyshire. DE75 7EG
Safeguarding adults
If you have any concerns about whether an older person, or yourself, is being abused or neglected, please see our safeguarding adults page for help. We are committed to preventing the abuse and neglect of vulnerable adults.
Other information you may find helpful
Related pages on our website
Related pages on other websites
Useful documents to download
The document below gives loads of tips and advice on how to stay independent and things you can do to prevent falls. Includes exercises and how to get up correctly if you do fall.