Information and advice service
October 2021 - Our Information and Advice service is operating via telephone only. Please call 01773 768240 (option 1), and someone will call you back within 2 working days.

Age UK Derby and Derbyshire offers a free, confidential and independent information and advice service to older people and their relatives, friends and carers.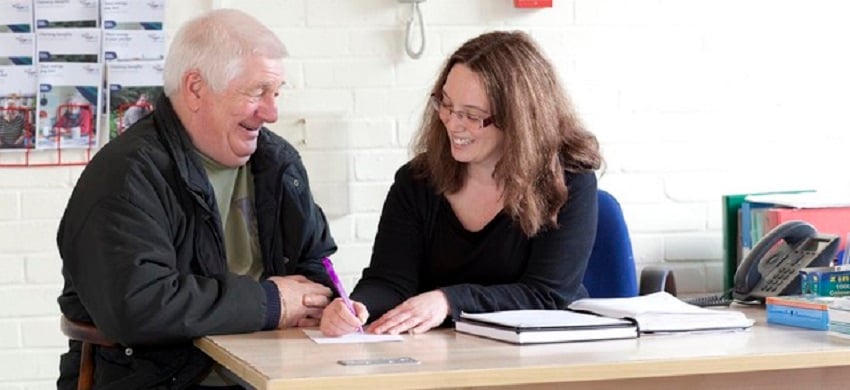 "I was extremely grateful for the help we received from you, the person I spoke to was very helpful and listened to our problem. Thank you"
We can usually help directly but, if not, we can signpost you to someone who can.
Our information and advice can support you to make the best decision about the little things that can make a big difference and about major life changes. Our help can make the difference between living life and just managing.
What are the benefits?
Older people and their carers can make more informed choices and achieve positive outcomes on a variety of issues affecting independence and wellbeing
Older people feel empowered to use local services and support agencies now and in the future
Reduced risk of crime, deception and elder abuse
Increased income and older people able to enjoy a better standard of living including adequate heat, food, clothing and personal expenditure
Older people feel supported and listened to and experience increased feelings of engagement, self-worth and care
Who is it for?
Older people in Derbyshire county and Derby City and carers calling from around the UK.
What is the charge to use the service?
No charge for this service, but donations are always gratefully received.
What is offered by the service?
1:1 support to find solutions to problems including referral to other agencies where appropriate
Information on local, community and national services for older people and their carers, guidance on issues affecting older people and their carers, welfare rights, assessment of entitlement to benefits, social and emotional issues, legal issues (wills etc)
Age UK Information Factsheets and guides, provided free of charge
How does it work?
Contact us in person at one of our Information Centres or by telephone, email, letter or fax. Or ask a trusted friend, family member, carer or professional to call for you.
A trained and experienced advisor will discuss your concerns and try to provide all the information and advice you need to make an informed decision about what is best for you.

We can check your benefits to make sure you are getting everything you are entitled to, send factsheets on over 80 subjects, send you information leaflets and booklets, signpost you to local or national agencies and refer you to specialist agencies.

For some issues we would put you in contact with one of our specialist services, for example our Derbyshire Dales Housing Options Service can help with making decisions about where and how you live or if you experience difficulty getting your needs and wishes heard we can refer you to a complex case worker.

Or if you prefer you can pick up information guides on a wide variety of subjects at Age UK shops and our shops and services in Derbyshire.
Trusting us to help you
Our help is free, confidential and independent. We may need to ask you for personal information in order to help answer your enquiry. We ask for some other information for monitoring purposes to make sure we offer a good and reliable service. No information is passed to another party without your consent.
Under the new General Data Protection Regulations introduced in May 2018, you can refuse to give some or all of your personal details. This does not mean you will not get a service but it may mean we won't be able to help you in as much detail as we would like to as we can only work with the information you have provided to us.
Make a donation
Our Information and Advice Service is entirely funded by our local income generation. If you would like to make a donation please use a donation tin at any of our venues or make cheques payable to 'Age UK Derby and Derbyshire' and send to:
29A Market Place
Heanor
Derbyshire
DE75 7EG
How to contact us
Information and Advice Service - Derbyshire
29A Market Place
Heanor
Derbyshire
DE75 7EG

Telephone: 01773 768 240 (confidential answer-machine in busy periods/out of hours)
Fax: 01773 766 924
Email: iateam@ageukdd.org.uk
The Information Roadshow
A touring information service visiting public events, groups, clubs and agencies in the county.
Call 01773 768 240 or visit the information roadshow page for further information. Or ask about the Information Roadshow visiting your group or club.
Free booklets and online information
Age UK produces free information guides and factsheets on a wide range of topics, including home adaptations, dementia, and advice for carers. You can find a complete list of guides and factsheets on the Age UK national website.

If you prefer to read information online, the Age UK national website has information and advice on many topics, including how to find a care home, how to avoid scams, and Power of Attorney.
Safeguarding adults
If you have any concerns about whether an older person, or yourself, is being abused or neglected, please see our safeguarding adults page for help. We are committed to preventing the abuse and neglect of vulnerable adults.
Other information you may find helpful
Related pages on our website
Related pages on other websites