Age UK East Grinstead and District offers lots of services for older people and their carers.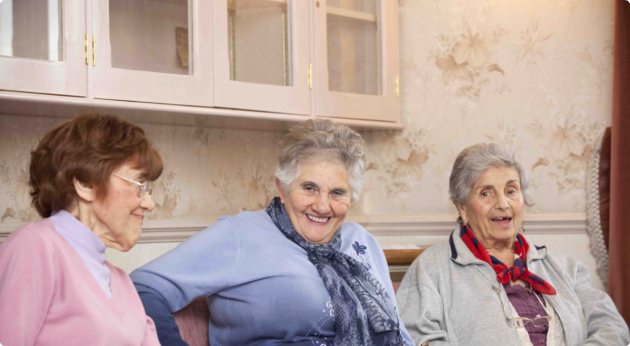 Our Home Assistants offer support in the home by providing help with tasks such as cleaning, bed change, laundry and ironing, as well as shopping.
Our carers respite service offers support to carers on first and third Saturday of the month between 10am and 3.30pm.
There are lots of exciting activities taking place at our Swan Mead Activity Centre including midday meals, exercise classes, quizzes and day trips.
Our Services
Our Activity Centre in Swan Mead is the hub of our operations

Each year we arrange many day trips and outings to places of special interest, and group holidays
Our Home Assistants offer support in the home by providing regular domestic help with housework tasks

Our carers respite service gives carers/family members the opportunity to have a break from their caring role

We can link older people to statutory and voluntary groups that offer solutions to specific needs
Activity Centre
Swan Mead Activity Centre was a long sought after project of the old East Grinstead Urban District Council which began in its last year before being absorbed by the newly created Mid Sussex District Council in 1974.
The current activity centre Swan Mead, was opened on August 31 1974 by Mrs Margaret Lister Williams, the first chairman of the new district council. The project had been urged on by the town's original Old Peoples Welfare Committee.
Swan Mead gets its name from a field on which the Queens Road cemetery is laid, in turn taking its name from the early 18th century Swan pub which fronted London Road and which was demolished in the early 1960s.
Trips and Holidays
We have been running Trips and Holidays for many years now, when we first started we were only doing four trips a year and one holiday, we are now doing a trip a month and four holidays a year. This is from high demand from our members, which is great news.
When you come on the trips or holidays there is always a member of staff or volunteer to assist you or just there for company, so you never have to feel you are on your own.
If you wish to book on any trips or holidays to save disappointment book early, we only ask for a £5 deposit for trips and £50 for the holidays.
Carers Short Breaks Service
Our carers respite service was established in 2003 by Age UK East Grinstead, the County Council and the Alzheimer's Society. It was initially designed to support carers or family members of those living with dementia or memory loss but now also caters for the elderly and frail.
The service operates on the first and third Saturday of each month between 10am and 3.30pm. The service gives carers the opportunity to bring their loved-ones into a home-from-home and stimulating environment, so that the carers are then free to go and spend some well-earned time partaking in their own leisure or family pursuits, safe in the knowledge that their loved-ones are being looked after by skilled and trained staff. The days are very much valued by all concerned.
Our services are currently subsidised by West Sussex County Council Carers Short Breaks Grant.
Help at Home
The Help at Home Mid Sussex service was successfully established in 1996 and is now delivered by Age UK East Grinstead & District following many requests received by older and vulnerable people who required reputable domiciliary help within their home.
The service is available to older people and those with disabilities who need assistance in running their home and our team of Home Assistants can assist with general housework, bed changing, laundry and ironing, as well as shopping at local shops.