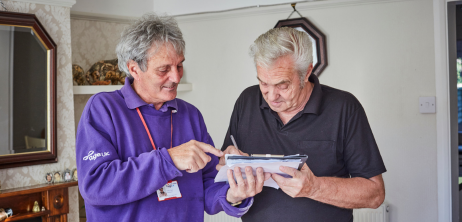 Please note, this service is not available outside Age UK East London - Head Office's catchment area.
London Borough of Havering
Town Hall
Main Road
Romford
RM1 3BB
United Kingdom
Age UK East London have partnered with Havering Council to launch a new Energy Doctors service to aid residents in tackling the cost of living crisis.
What is this service for?
The Energy Doctors service is here to help Havering residents save money on energy bills and get their homes ready for next winter, by offering professional advice on energy efficiency and making small changes and repairs to their homes.

The free service is open to all residents in the borough, though appointments will be prioritised for those most vulnerable to fuel poverty.

Expert Energy Doctors are available to visit residents' homes to carry out energy assessments, which will identify areas where energy is being wasted and provide tailored advice on how to make savings.

The teams can also make small repairs where possible, including fitting draught excluders and radiator reflectors, along with swapping older lightbulbs for energy efficient bulbs to reduce energy consumption.They can also give advice on tackling issues with mould and condensation.

Please note that larger jobs such as loft insulation, home cladding, new windows and boilers are not covered under this service but we will refer you on to our sister partner Age UK Redbridge, Barking & Havering who will be able to support you through their information and advice team.
Professional Referral Form
If you are a professional and you would like to refer someone to this services please fill out this form -
https://forms.office.com/Pages/ResponsePage.aspx?id=ONTTRmDWQUOq_4L-WVH_kRCqLVdNdcJCnlNM1zL9MQFUNUxDN1E2VE5XSkZXRFBRMkFHRE5ZNExEQi4u
Public Referral Form
If you are a member of the public and you would like to refer yourself to this service please fill out this form -
https://forms.office.com/pages/responsepage.aspx?id=ONTTRmDWQUOq_4L-WVH_kRCqLVdNdcJCnlNM1zL9MQFUQlZVNVJDWjc2RFdOT1BQWlkzVU8xSFlKTC4u
Please Note: If you do not feel able to fill out the online form we can fill it out with you over the phone.