Our Donation Centre is bursting with donations – we urgently need your help!

Donation Centre Volunteers

During normal times, the bags of clothes and items you kindly donate to our charity shops are sorted and put up for sale within a few days. But these are not normal times. With all our shops currently closed in line with Government restrictions, we are struggling to deal with a huge backlog at our Donation Centre in Newhaven. That's why we're putting out an urgent plea for volunteers to help as we come out of lockdown and prepare for our shops to reopen.

Our Donation Centre Manager, Caroline Rosan, would like to thank everyone for their kind donations, she said:

"The public are so generous. They have donated so much to support local older people during the pandemic. The trouble is that many of our volunteers who normally sort these items are older people themselves and are shielding, or unable to safely leave their homes. With our shops closed, the donations are really starting to pile up. We have a mountain of items to process and urgently need help to sort through these lovely donations and prepare to re-open our charity shops in April."

Our Donation Centre operates a COVID-secure working environment with safety measures and social distancing throughout. If you have an eye for fashion, are a fan of books, enjoy finding antique gems, or just want to roll your sleeves up and lend a helping hand, please give us a call today on 01273 646 800

We are also on the lookout for keen photographers and social media champions to help with our new online store. If you'd like to lend your skills, please get in touch.
Volunteers for both our Befriending and Shopping Service

At this time and in line with COVID restrictions we are currently offering a telephone only befriending service, but we aim to develop the service as restrictions ease to include befriending visits, walks and assistance with grocery shopping and collection.

We continue to offer our shopping service where we collect and deliver essential shopping. We especially require volunteer shoppers in Hastings, Bexhill, Eastbourne, Uckfield, Lewes and Newhaven.

If you feel you can help us then please call 01273 476704 or email us at volunteers@ageukeastsussex.org.uk
Volunteer Frequently Asked Questions
Who Can Volunteer?
We welcome volunteers aged 18 (*this age limit is currently under review) and above who have relevant skills and experience and a willingness to learn.
How Much Time Do I Need to Commit?
Most of our volunteer roles require a regular commitment of 2 hours or more per week. Please see each individual role description for details of how much time we need from you.
What Can I Expect from Volunteering at Age UK East Sussex?
Volunteering is a great way to use your existing talents to help others and contribute to your local community. It can be beneficial in developing work based skills if you are studying or job seeking and is particularly beneficial for those looking to go into care work, older people's care or the charity sector.
As a Volunteer, You Will:
Make a meaningful difference to older people in East Sussex.
Gain new skills and experiences,
Meet new people.
Have a named supervisor who will support you throughout your volunteering journey.
Receive any necessary training and support for your role.
Receive our newsletter for volunteers.
Be invited to our annual celebration of volunteers.
Be part of the fabulous team of volunteers and staff at Age UK East Sussex.
What Do Volunteers Do?
Volunteers are involved in all aspects of our charity from being a trustee to an administrator and our MacMillan Home from hospital service. Our roles change depending on need. Details of current roles can be viewed on our website.
Will I Have to Pay My Own Bus Fare or Petrol Costs?
No, all reasonable travel expenses that arise from volunteering are reimbursed. This includes public transport within the city and petrol costs if you use your car in your volunteer role.
Can I Claim Benefits While Volunteering?
Yes, volunteering does not affect your benefits as you will not be receiving payment other than travel expenses if appropriate. You will need to let the Job Centre know that you are volunteering and must abide by the conditions set out by them.
Do I Need Any Skills or Qualifications?
Most volunteer roles don't require qualifications, but we do need people that have suitable skills to enhance and support the work we do with older people. All volunteers receive a thorough induction and support to undertake their role. Training is also available where appropriate.
Will I Have to Complete an Application Form or Have an Interview?
Yes, we ask all people who are interested in volunteering with us to attend an informal interview. This is a two way process that enables us to find out more about you and see if you are suitable for the role and also allows you meet us and see if our volunteer roles meet your needs and interests.
What Training and Support Will I Get?
All volunteers receive a thorough induction to their role with their role supervisor prior to or on their first day of volunteering.
We also offer training on Manual Handling, First Aid and Safeguarding.
Are Childcare Costs Covered?
No. Unfortunately, we don't currently have the resources to cover childcare costs.
What Volunteering Opportunities Are There for Students?
Most of our volunteer roles are suitable for students as long as you have availability in your timetable during the week.
Can I Leave If I Don't like It?
Yes - of course you can. However, we would ask that you speak to the Volunteer Co-ordinator first to see if anything can be done to improve your experience, such as changing your role to something you find more enjoyable.
How Do I Apply?
Look through our Current Volunteer Roles.
Contact us via telephone or email on the above contact details.
The Volunteer Co-ordinator will contact you for an informal chat.
You will be invited to an informal no commitment interview.
At the Interview You Will:
Find out more about our charity and the types of volunteer roles available.
Discuss your relevant skills, experience and what you hope to gain from volunteering.
Have the application process explained to you in more detail.
Complete a Volunteer Application form. PLEASE NOTE: because of the sensitive nature of the work we do, we will ask you for a reference. Some roles also require a DBS background check. https://www.gov.uk/government/organisations/disclosure-and-barring-service/about
If your application is successful, we will contact you to make arrangements for start dates etc.
Contact Details
If you have any questions about our volunteer roles please feel free to contact us on:
Phone: 01273 476704
E-mail: volunteers@ageukeastsussex.org.uk
Address:
Age UK East Sussex
Faraday House
1 Faraday Close
Eastbourne
BN22 9BH
We place great value on our volunteers who bring so much to the organisation, their time, energy and commitment are recognised and greatly appreciated.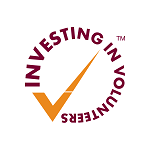 Age UK East Sussex has been awarded the Investing in Volunteers accreditation. This shows our commitment to all our volunteers and how we recognise that it is their energy, time and commitment which makes our organisation.
If you are unsure of what role you could undertake with us, that is not a problem; we can arrange for you to chat with one of our volunteer coordinators to pinpoint a role for you. Feel free to send us an introductory e-mail at volunteers@ageukeastsussex.org.uk or give us a call on 01273 476704.