Join our Volunteer Community Response Team


As we come out of lockdown our local communities and especially local older people need our help more than ever.

Our Community Response Team is helping with friendly phone calls, escorted walks, shopping and just checking in to make sure everyone is ok.

Find out more about how you can volunteer to help your local community and make a difference to the lives of so many people.

We especially need local volunteers in Hastings, Bexhill, Eastbourne, Uckfield, Lewes, Newhaven, our rural communities, Brighton and Hove.

Macmillan Home Support Volunteers

Our volunteers enable people diagnosed with Cancer to access timely and practical support in their homes, in a more flexible way to ensure they complete their Cancer treatment.

How our volunteers help?

• Visit older people at home for up to 12 weeks
• Light housekeeping
• Collect prescriptions and shopping
• Prepare light snacks
• Provide information to support services and activities.

We are always looking for volunteers to join our teams across East Sussex
Age UK East Sussex Information and Advice (I&A) service provides information and advice to older people on matters such as welfare benefits, health and social care, housing and local services.

This is an interesting and varied role as the volunteer will be helping to provide information and advice to individual older people and their carers.

Join our teams based in Hastings and Newhaven and provide support from home if you prefer.

Our Charity Shop Volunteers are some of the most important people in the charity. Without them raising funds we could not provide our client services

Volunteer either in Customer Facing roles, such as on the till, or, if you prefer, help out in the back sorting and preparing stock for sale. Volunteering in our shops is a great way to make new friends and every day is unique as you never know what will be donated.

We have volunteer roles available at Battle, Bexhill, Hastings, Lewes, Eastbourne, Newhaven and Brighton
Our team of Social Prescriber volunteers work closely alongside our employed colleagues, doctors and nurses in GP surgeries.

Working together we support those aged over 50 and carers to improve well-being.

Our team can provide information on a range of services, support and activities available in the local area and are always on hand to provide a friendly face.

We have volunteer opportunities in Lewes, The Havens and Wealden

Our Donation Centre, Furniture Warehouses and De-clutter Teams couldn't operate without warehouse and van volunteer assistants.

This is a physical and rewarding role, being out and about on our vans, collecting furniture, helping older people to downsize / declutter and delivering items for our shops to sell.

If you want to be part of a great team then join our Warehouse operations today.

We have volunteer vacanicies in Newhaven & Eastbourne
New Trustees Wanted
Age UK East Sussex is the county's leading older people's charity, providing services to around 17,000 people locally and influencing to improve later life. Our vision East Sussex is a great place to grow older. The Board are seeking to recruit 2 new members to help further strengthen its performance and strategic oversight of its recent approved Business Plan 2021-24. The charity is emerging from an intensive period of Covid emergency support to older people and has a clear strategy to recover and grow its financial sustainability and impact.
An interest and commitment to improving later life is important. Skills or experience in commercial or health and care settings would be welcome, but not essential.
For an informal discussion or to request further information and application details, please contact:
Steve Hare (Chief Executive)
steve.hare@ageukeastsussex.org.uk
08750 987125
Deadline for application is 29th October 2021
Volunteer Frequently Asked Questions
Who Can Volunteer?
We welcome volunteers aged 18 (*this age limit is currently under review) and above who have relevant skills and experience and a willingness to learn.
How Much Time Do I Need to Commit?
Most of our volunteer roles require a regular commitment of 2 hours or more per week. Please see each individual role description for details of how much time we need from you.
What Can I Expect from Volunteering at Age UK East Sussex?
Volunteering is a great way to use your existing talents to help others and contribute to your local community. It can be beneficial in developing work based skills if you are studying or job seeking and is particularly beneficial for those looking to go into care work, older people's care or the charity sector.
As a Volunteer, You Will:
Make a meaningful difference to older people in East Sussex.
Gain new skills and experiences,
Meet new people.
Have a named supervisor who will support you throughout your volunteering journey.
Receive any necessary training and support for your role.
Receive our newsletter for volunteers.
Be invited to our annual celebration of volunteers.
Be part of the fabulous team of volunteers and staff at Age UK East Sussex.
What Do Volunteers Do?
Volunteers are involved in all aspects of our charity from being a trustee to an administrator and our MacMillan Home from hospital service. Our roles change depending on need. Details of current roles can be viewed on our website.
Will I Have to Pay My Own Bus Fare or Petrol Costs?
No, all reasonable travel expenses that arise from volunteering are reimbursed. This includes public transport within the city and petrol costs if you use your car in your volunteer role.
Can I Claim Benefits While Volunteering?
Yes, volunteering does not affect your benefits as you will not be receiving payment other than travel expenses if appropriate. You will need to let the Job Centre know that you are volunteering and must abide by the conditions set out by them.
Do I Need Any Skills or Qualifications?
Most volunteer roles don't require qualifications, but we do need people that have suitable skills to enhance and support the work we do with older people. All volunteers receive a thorough induction and support to undertake their role. Training is also available where appropriate.
Will I Have to Complete an Application Form or Have an Interview?
Yes, we ask all people who are interested in volunteering with us to attend an informal interview. This is a two way process that enables us to find out more about you and see if you are suitable for the role and also allows you meet us and see if our volunteer roles meet your needs and interests.
What Training and Support Will I Get?
All volunteers receive a thorough induction to their role with their role supervisor prior to or on their first day of volunteering.
We also offer training on Manual Handling, First Aid and Safeguarding.
Are Childcare Costs Covered?
No. Unfortunately, we don't currently have the resources to cover childcare costs.
What Volunteering Opportunities Are There for Students?
Most of our volunteer roles are suitable for students as long as you have availability in your timetable during the week.
Can I Leave If I Don't like It?
Yes - of course you can. However, we would ask that you speak to the Volunteer Co-ordinator first to see if anything can be done to improve your experience, such as changing your role to something you find more enjoyable.
How Do I Apply?
Look through our Current Volunteer Roles.
Contact us via telephone or email on the above contact details.
The Volunteer Co-ordinator will contact you for an informal chat.
You will be invited to an informal no commitment interview.
At the Interview You Will:
Find out more about our charity and the types of volunteer roles available.
Discuss your relevant skills, experience and what you hope to gain from volunteering.
Have the application process explained to you in more detail.
Complete a Volunteer Application form. PLEASE NOTE: because of the sensitive nature of the work we do, we will ask you for a reference. Some roles also require a DBS background check. https://www.gov.uk/government/organisations/disclosure-and-barring-service/about
If your application is successful, we will contact you to make arrangements for start dates etc.
Contact Details
If you have any questions about our volunteer roles please feel free to contact us on:
Phone: 01273 476704
E-mail: volunteers@ageukeastsussex.org.uk
Address:
Age UK East Sussex
Faraday House
1 Faraday Close
Eastbourne
BN22 9BH
We place great value on our volunteers who bring so much to the organisation, their time, energy and commitment are recognised and greatly appreciated.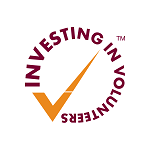 Age UK East Sussex has been awarded the Investing in Volunteers accreditation. This shows our commitment to all our volunteers and how we recognise that it is their energy, time and commitment which makes our organisation.
If you are unsure of what role you could undertake with us, that is not a problem; we can arrange for you to chat with one of our volunteer coordinators to pinpoint a role for you. Feel free to send us an introductory e-mail at volunteers@ageukeastsussex.org.uk or give us a call on 01273 476704.