Social groups to suit you at Age UK Exeter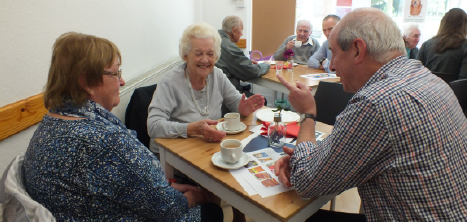 Published on 01 January 2017 11:27 AM
At Age UK Exeter we love connecting people. With so many older people experiencing loneliness and isolation, it's one of the most important things we can do to improve later life in Exeter.
Meeting like minded others, sharing experiences and interests is a great way to keep active and feel part of the community. We run lots of different social groups with something for everyone - these are just a few of them.
Claire Morse is our Social Support Co-ordinator and you can get in touch with her for more information about any of our social groups. Just give Claire a call on 01392 202092.
Soundbase
Did you know that we run a weekly group for people who have a hearing impairment? We meet every Tuesday morning at The Sycamores on Mount Pleasant Road. We offer good company and conversation with tea, coffee and cakes as well. If you would like to know more please call Claire.
History group
If you have an interest in history and would like to learn more about our historical past in a light hearted way over a cup of coffee in good, friendly company, why not come along to our history group that meets fortnightly on Thursday mornings at the Imperial Hotel. Claire can tell you more about it - just give her a call.
New groups - we'd love to hear from you!
We are hoping to start two new groups to add to our list of activities to welcome the Spring back into our lives: a Bus Pass group and a lunch group. If you have a bus pass and would like some company to visit local places of interest using your bus pass, or if you would prefer to meet with others for a social lunch at a venue and day to be arranged, Claire would love to hear from you. You may even be interested in joining both groups!
These are just a few of our regular opportunities for socialising in Exeter. If you'd like to meet new people and share your interests, please contact us - we'd love to help.