London to Paris cycle ride raises £2,000!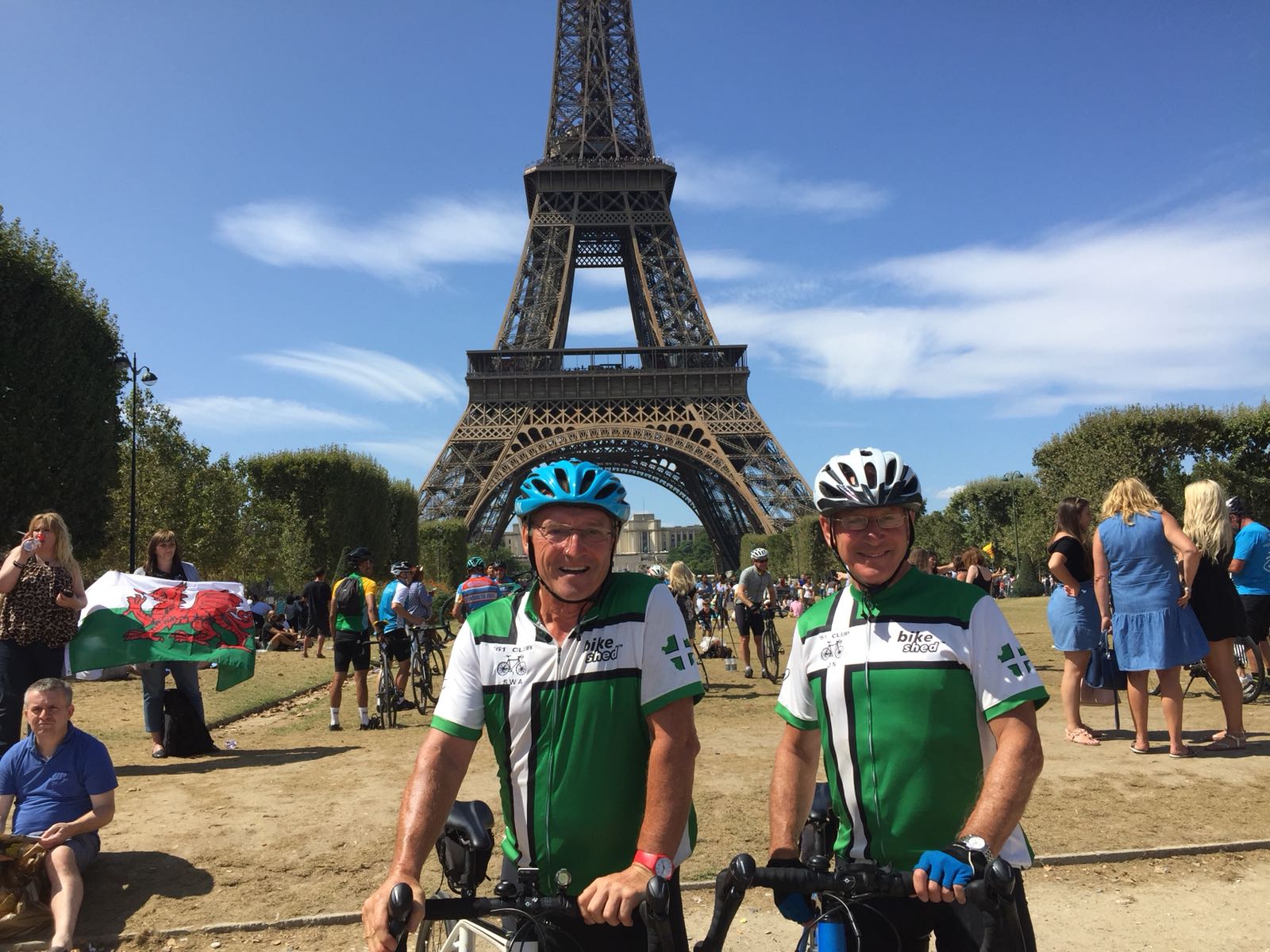 Published on 03 August 2018 12:00 AM
They did it! Jeremy Newcombe and Steve Arnold have completed the London to Paris Bike Ride raising over £2,000 for Age UK Exeter's Dementia Services.
We asked Jeremy to tell us a bit about their adventure. This is what he wrote …
It was a real challenge and probably the toughest physical challenge we had ever done because of the temperatures over two of the days cycling through North Eastern France.
The challenge started in Croydon, South London at 7.30am on Wednesday 25th July. We all set off as a group of 150 cyclists and with the help of some signing along the way and the Garmin on my bike we cycled 82 miles through parts of Sussex and Kent, largely on lanes to reach Dover by 2.30pm. This was a tough day because of the need to arrive early for the ferry and the terrain which although really picturesque was quite hilly crossing the North and South Downs before dropping down to the coast. Steve came off his bike on some gravel and had to be patched up at the nearby water stop but there was no significant damage and didn't affect his performance. The check-in and ferry crossing were tedious and we eventually arrived at our hotel in Calais at 11 pm rather tired!
We were up early on Thursday morning and on the road by 7.30am. We had been warned that the weather forecast was for clear skies and high temperatures but it wasn't until the afternoon that we really appreciated how difficult this was going to make the challenge. It was exhausting cycling through the open countryside of the Somme Valley with little shade and with temperatures reaching 40 degrees. It was like cycling into a hot air dryer and we drank in excess of 9 litres of water each during the day's ride of 80 miles. There were a number of riders who suffered from heat-stroke and had to be helped but Steve and I battled through and reached our hotel in Arras in the early afternoon. The first part of the day's ride was particularly interesting because we passed many of the cemeteries containing the war graves from the 1914-18 Great War. The German war graves are marked by black crosses often containing up to four names of fallen soldiers and the Allied graves are marked by headstones each naming the soldier, his regiment and his age or simply saying ' unknown soldier'. One particular memorial in a small village square recorded that the German and Allied soldiers played a football match together on Christmas Eve before resuming the fighting on the following day.
We were an up at 6.30am and off by 7.15am on Friday because we had been warned that the temperatures were likely to match the previous day and we wanted to cover as much ground as possible by lunchtime. In fact, I thought that it was slightly better, and although it was a tough cycle and some members of our group suffered we arrive in Compiegne after completing 78 miles by about 4 pm. The most memorable part of the ride was in the heat of the afternoon, crossing a long section of open countryside when the road tarmacadam could be seen to be melting and sticking to our tyres!
Saturday was our last day and the weather was noticeably cooler. This was a great days' cycling through some lovely villages and into Paris. We had a meeting point at the Louis Vuitton building on the edge of central Paris and we rode in a long peloton passed cheering tourists up to and around the Arc de Triomphe, down the Champs Elysees, around to the Eiffel Tower to finish with champagne and hugs from friends and family. The last day we covered 76 miles and about 320 miles in total and we finished with a great sense of achievement.
Almost all of the cyclists taking part in the challenge were riding for a charitable cause and we had many rather poignant conversations with fellow cyclists about their reasons for taking part, such as the death of a child from Leukaemia or their experience with testicular cancer and many others. This was a humbling experience and we were pleased to have added our little bit to the effort in memory of John Poustie a great friend and a unique character. Cycling in our Devon shirts we soon became known as 'The Debn Buys'.