Pedal for poustie - Simon Day and team cycle from Newcastle to Exeter to raise money for Dementia services.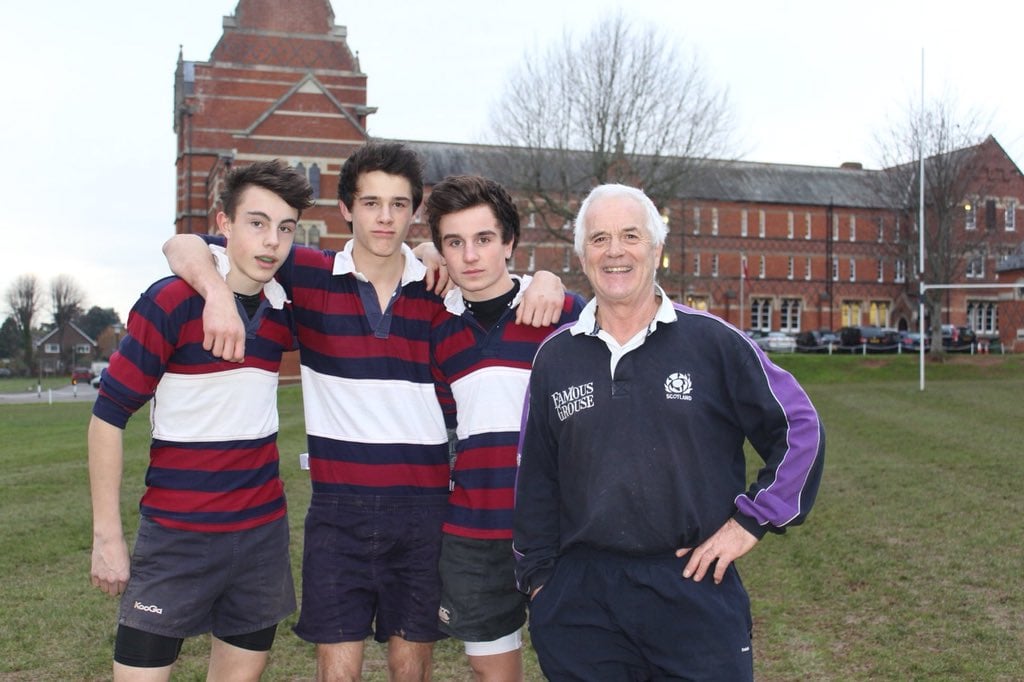 Published on 02 August 2018 01:26 PM
Simon Day, Ian Cunliffe and Richard Jones are cycling from Newcastle to Exeter to raise money for Age UK Exeter in memory of much loved local teacher John Poustie.
"My great friend John Poustie was one of the most charismatic people I have ever come across. We shared a house as students, played club and county rugby together, taught for many years at the same school, played squash incredibly competitively and had an unbelievable amount of adventures and laughs. Above all, he made people of any age smile whatever he was doing, and he was a brilliant teacher and an inspiration to many.
At the age of 65 he was diagnosed with early-onset Alzheimer's and life for him and his family would progressively become more challenging with the sad deterioration of memory and physical capabilities linked to this wretched disease.
He and his family have received amazing support from the charity Age UK Exeter since the onset; it provides day care services for those with dementia/Alzheimer's as well as providing other initiatives for those coping with a partner who has Alzheimer's. All funding for the special initiatives comes from charitable donations.
I took up cycling at the start of 2017 and so have decided to ride with two Kiwi friends, from Newcastle, the northernmost Premier rugby club in England, to Exeter the southernmost and my old club, which John also played for. Our route will cover about 800 kilometres and will take us just under a week which I feel is a suitably demanding challenge and worthy as a fundraising exercise.
I am asking for your generous support for the venture which I know will do much for families coping with loved ones with dementia and Alzheimer's. All funds will go direct to the charity as we are totally covering our costs.
Very sadly, John passed away just after Christmas, so the ride will now be in his memory.
Age UK Exeter runs centres on at least 2 days a week for people with Alzheimer's/Dementia with a high ratio of staff and volunteers, giving meaningful and supportive care.
We are incredibly grateful to Thrifty Car and Van Rental UK who are providing a support vehicle for the ride."
The Team:
Ian Cunliffe
was born in Lancashire in 1963 and moved to NZ 15 years ago. He shows all the grit of a true Northerner and is very single-minded. He is a keen cyclist who has done various fundraising ventures with the Rotary Club of Devonport. In a varied career, he spent one year (1988-89)at Exeter University, St Lukes School of Education and taught for several years in Sussex. He then qualified as a lawyer but when he emigrated to New Zealand he embarked on a career in real estate and has become one of the leading agents in Auckland . He met Simon at an 'open home' and they have been friends ever since with a tasty North v South rivalry and continual banter. He is very keen to contribute to Age Concern Exeter and is hopeful of doing a similar ride next year in New Zealand for a similar charity.
Richard Jones was born in Harrow, North West London, and lived in the area for the first 40 years of his life before meeting his partner Jacquie and moving to Hove, East Sussex. After a holiday together to New Zealand in 2005, Richard and Jacquie had the opportunity to move to the country and run a Lodge in a remote part of the South Island. After 2 years, they swapped that lifestyle for a life in Devonport, Auckland - Richard working as the Golf Operations Manager at the North Shore Golf Club and Jacquie as a Cabin Supervisor/Trainer for Virgin Australia. Richard has been friends with both Simon and Ian since moving to Devonport in 2009 and joined their "exclusive" cycling group at the beginning of the year. His mother now lives in Devon so there is a Devon connection as with Ian and Simon. When Simon mentioned about the possibility of a sponsored UK bike ride in memory of his late friend John Poustie, Richard jumped at the chance to spend a week with his buddies (wearing lycra!) and helping to raise much-needed funds for such a worthwhile cause.
Simon Day
was born in 1951 and grew up in Devon and like Ian obtained his degree at St Luke's, Exeter University. He became headmaster of Wolborough Hill School in 1983 and enjoyed great success there before emigrating to New Zealand in 1999 with his wife and two children to take up a Principal's position in Auckland. He played rugby for Exeter, Devon and the SW England, captaining Exeter and Devon.
He met John Poustie in his first year at Luke's and they became life-long friends playing rugby alongside each other for many years and playing squash incredibly competitively for even longer. They taught and coached together at Wolborough where John was as much a legend as he was later on at Exeter School. Simon took up cycling 18 months ago as his knees needed help surviving years of competitive sport and luckily Ian took him under his wing. In a moment of rashness last summer, whilst in the UK, he suggested to John and Lindsey that he would do a charity ride in John's name and hence this challenge! He was blown away when Ian and Richard offered to join him in the venture and he is so grateful to them for travelling across the world for the challenge.
To donate, head here.