Pedal Power! Over £10,000 raised for Age UK Exeter's Dementia services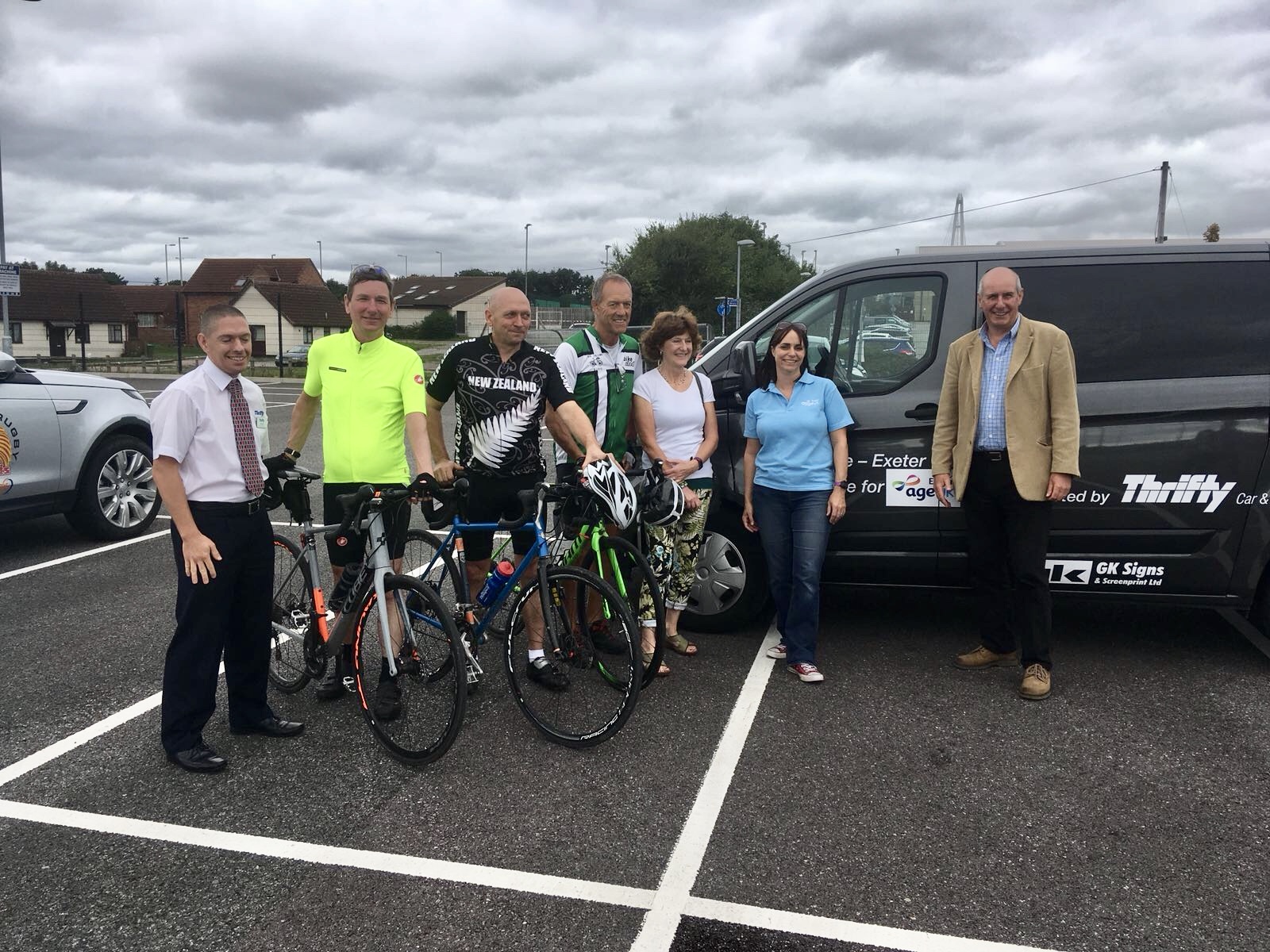 Published on 28 August 2018 11:19 AM
Over £10,000 has been raised for Age UK Exeter's dementia services through the pedal power of the friends of ex Exeter Rugby player and much loved local teacher John Poustie. John was diagnosed with early-onset dementia at the age of 65 and sadly passed away in December. John and his wife were supported by Age UK Exeter during his illness, coming together with other couples also coping with dementia on the charity's allotment as part of their 'Budding Friends' project, attending regular carers support group meetings and then through the charity's specialist dementia day care services.
Last week Simon Day, an Exeter Rugby team mate of John's back in the seventies, Ian Cunliffe and Richard Jones cycled from England's northernmost Premiership rugby club, Newcastle Falcons, to Exeter Chief's Sandy Park, raising over £8,000 for Age UK Exeter's Dementia services. They were met at the ground by John's wife, Lyndsey, and family and friends as well as Exeter Rugby legends Bob Staddon and John Lockyer. And at the end of July friends, Jeremy Newcombe and Steve Arnold completed the London to Paris Bike Ride in John's memory raising over £2,000 for Age UK Exeter's Dementia Services. Simon Day said of his friend:
"My great friend John Poustie was one of the most charismatic people I have ever come across. We shared a house as students, played club and county rugby together, taught for many years at the same school, played squash incredibly competitively and had an unbelievable amount of adventures and laughs. Above all, he made people of any age smile whatever he was doing, and he was a brilliant teacher and an inspiration to many. At the age of 65 he was diagnosed with early-onset Alzheimer's and life for him and his family would progressively become more challenging with the sad deterioration of memory and physical capabilities linked to this wretched disease. Very sadly, John passed away just after Christmas, our ride is in his memory.
He and his family have received amazing support from Age UK Exeter since the onset; they provide day care services for those with dementia as well as providing other initiatives such as Budding Friends where a couple can come together for peer support and regular carer support. All funding for the special initiatives comes from charitable donations".
Penny Unitt, Age UK Exeter's Dementia Wellbeing Co-ordinator says of John;"John was so many things. He was witty, cheeky, friendly, intelligent, a raconteur, a sportsman and generally great fun. He was a huge part of the Budding Friends group, was loved and is greatly missed. A truly unique gentleman."
Age UK Exeter's CEO Martyn Rogers says:"We are incredibly grateful for all the time and energy both teams put into raising such a large sum for our Dementia services, the money raised will mean that we can continue to offer these vital services to the growing number of people in Exeter who need them. John Poustie was a very special man, as is clear from the wonderful efforts his friends have made in his memory".