What is Eat Together for Age UK Exeter?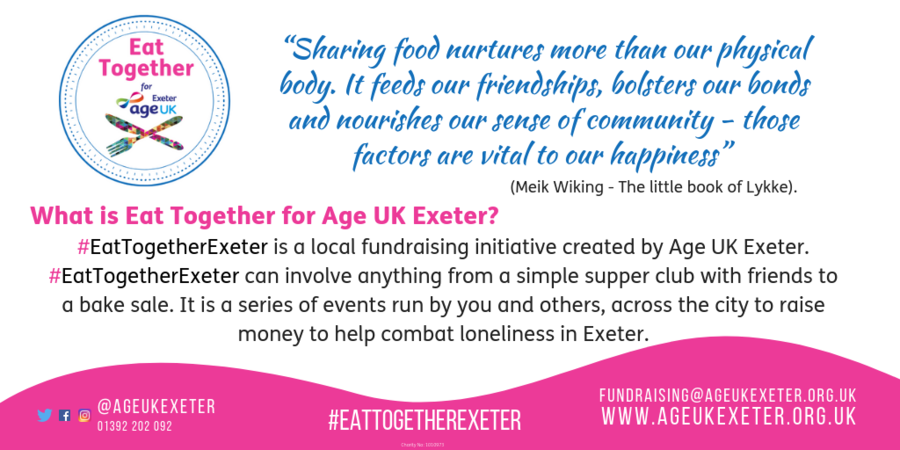 Published on 20 April 2019 11:30 AM
Many older people experiencing isolation and loneliness, say that the thing they miss the most, is sharing a meal with others – something most of us take for granted every day. In fact, there are psychological, social and biological benefits of eating with others. Sharing a meal is good for you!
Meik Wiking is the CEO of The Happiness Research Institute in Copenhagen and one of the world's leading experts in happiness. He is the author of The Little Book of Lykke (which means happiness in Danish). Wiking says, "Sharing food nurtures more than our physical body. It feeds our friendships, bolsters our bonds and nourishes our sense of community - those factors are vital to our happiness."
It is interesting to note that the word 'Companion' comes from 'panis', the Latin word for bread. Originally, the word was used to describe someone with whom you shared a meal. So you can see the basis on which the notion of companionship originally hinged: a companion was the one with whom you shared bread, or ate a meal.
Here at Age UK Exeter we run a number of social support projects that bring people together to share the company of others. These activities range from one-to-one voluntary visiting to social groups across the city. At our four day centres, sitting down for the lunchtime meal is a key part of the day for our guests who may otherwise be eating alone. Our services and activities often involve food and cake is a frequent feature at our events!
In 2019 we are asking individuals, schools and businesses across Exeter to join our #EatTogetherExeter campaign. Your #EatTogetherExeter event can involve anything from a simple supper club or BBQ with friends, to a bake sale, to a picnic in the school playground. It is a series of events run by you and others, across the city to raise money to help Age UK Exeter combat loneliness in Exeter. There are lots of ideas listed here and you can also register your interest in the campaign here too!
Over the coming weeks we will be releasing lots of resources to help make your event a success. Make sure you follow us on Facebook (@AgeUKExeter), Instagram (@ageukexeter) and Twitter (@AgeUKexeter) for more information.