Age UK Exeter Collaborate with City Runs for 2020 Summer 10K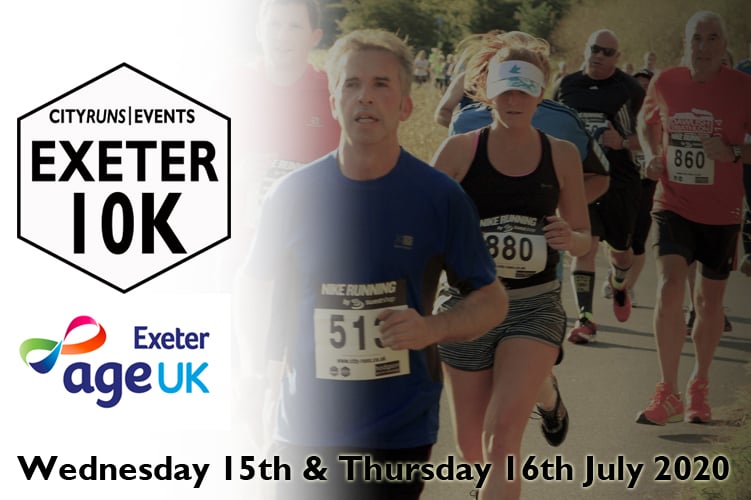 Published on 08 October 2019 12:46 PM
The Age UK Exeter annual 10K run is changing! We're collaborating with City Runs and bringing together the Exeter Summer 10k run with the Age UK Exeter 10k run – making the largest 10k running event in Exeter! Not only that but there will be not just one, but two runs, held on 15th and 16 July 2020.
Age UK Exeter has held an annual 10k run since 2014 and City Runs since 2015. The two organisations are now collaborating to offer runners one run with twice the fun!
Both runs have seen experienced and even international runners take part, along-side first-timers and fun runners, which creates a special atmosphere.
The Exeter Summer 10k will take place over two evenings on Wednesday 15th and Thursday 16th July 2020. There are 100 half price charity places up for grabs. These are now available, on early release, and are open to runners who pledge to raise at least £50 in sponsorship for the event. The 100 runners who sign up for the half-price charity places will help Age UK Exeter to raise a guaranteed, much needed £5,000 towards work in the city and hopefully even more.
Mark Cowen of City Runs said "I set up City Runs because I have a passion for running and a drive to put on quality events for the running community - events that are organised by runners, for runners. It's a simple formula that works really well.
We have been looking to work with a charity for a while and this is the perfect opportunity to team up with a great local charity that helps over a thousand older people in the city each week to make the most of life. Age UK Exeter is responsible for all its own funding and every penny raised goes into supporting older people in Exeter."
Jacqui Cornish, Fundraising Manager and organiser of the Age UK Exeter 10k Run said "We both share an understanding of what makes a great event. We know what runners want and we think that this collaboration will result in a very special event in 2020."
Both Jacqui and Mark are keen to make the event environmentally friendly too so there will be no plastic water bottles handed out. Instead, there will be 2 water stations using compostable cups.
WHY ENTER?
Pancake flat 2 lap course suitable for all abilities
Medal and goodies for every finisher.
KM markers
Pacemakers
2 water stations on the route (using compostable cups)
UK Athletics licensed event (TBC)
TO TAKE ADVANTAGE OF ONE OF OUR CHARITY PLACES ...