Budding Friends project, finalist in the National Dementia Care Awards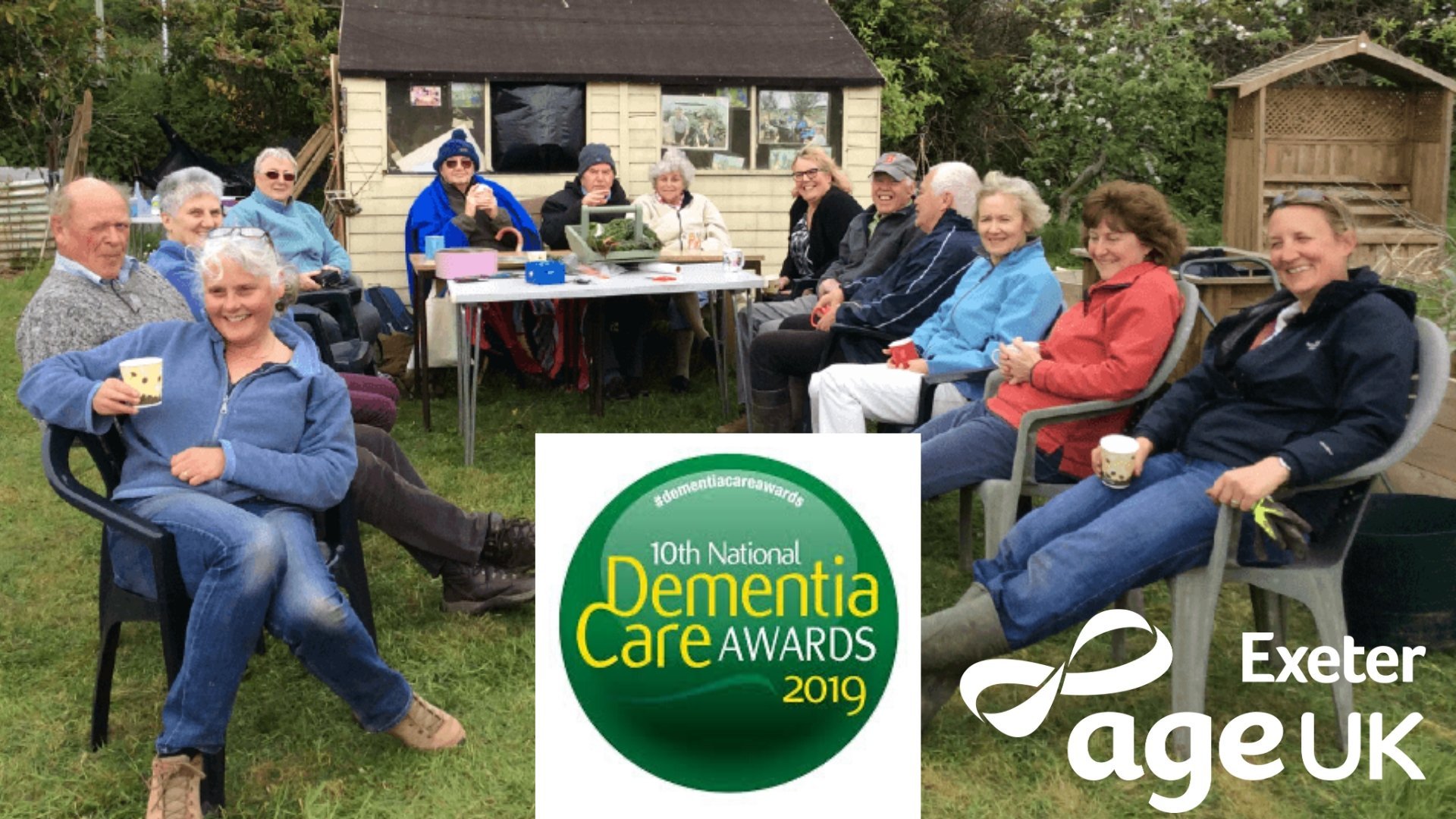 Published on 06 November 2019 12:05 PM
Budding Friends supports families and those with a recent diagnosis of dementia and runs dementia-friendly activity sessions every week.
The service, which has been running since 2015, has been shortlisted for a national award in the category 'Outstanding Dementia Resource'.
Budding Friends activities include a dementia-friendly allotment, a therapeutic art project in partnership with local gallery Studio 36 and a monthly carers group offering expert advice and peer support. It provides a vital lifeline for carers who often have nowhere else to turn. The aim is for the service to be fully accessible to all and subsidised by the charity's fundraising activities and donations by local people. The service is supported by a team of volunteers.
The group meet at the allotment on the Guys and Hylton site off Okehampton Road, on a Monday afternoon throughout the allotment season. One carer, Anne, tells us what she gets from the service "You don't feel as though you're coming to a 'dementia group' it's coming to Budding Friends where we have some fun, we dig, we plant, we garden, we have a laugh."
In the colder months, the group undertake a range of art activities at the studio in Denmark Road. Artwork from this group is on display at an exhibition – Conversations in Colour – at the Boatyard Bakery on Exeter Quayside throughout November. Studio 36 owner Veronica Gosling says "One of the activities I most enjoy is my Monday afternoon with Budding Friends and Conversations in Colour – it really has been one of the best things I have done in my life"
As well as Budding Friends, Age UK Exeter delivers a whole range of services to local people living with dementia and their families, including help with forward-planning, ensuring people are accessing the benefits to which they are entitled, daycare and support that enables carers to take a break.
Services Manager, Caroline Aird says "a diagnosis of dementia can be very frightening for people. At Age UK Exeter we deliver a person-centred approach as every person's needs are different. We support hundreds of families and individuals and help them with practical and emotional support from the point of diagnosis, for as long as they need us".
Penny Unitt, Dementia Wellbeing Co-ordinator, will travel to Doncaster this week to find out if the service is a winner at the National Dementia Care Awards 2019. She says "it was an honour to be shortlisted for this prestigious award. We know how valuable the service is and we always have incredible feedback from people who use the service but it's nice to be recognised at a national level too!"
Winners of the National Dementia Care Awards will be presented with their trophies at a Gala Night held on Thursday, 7 November at Doncaster Racecourse, which will be attended by over 400 guests.
The National Dementia Care Awards is an annual event organised by The Journal of Dementia Care, a multidisciplinary journal for all professional staff working with people with dementia, in hospitals, nursing and residential care homes, day units and the community.
The awards were created to recognise the very best people in the dementia care sector, whose exceptional work and contributions make better, person-centred care a reality.