10K Superhero Run - 16 June 2019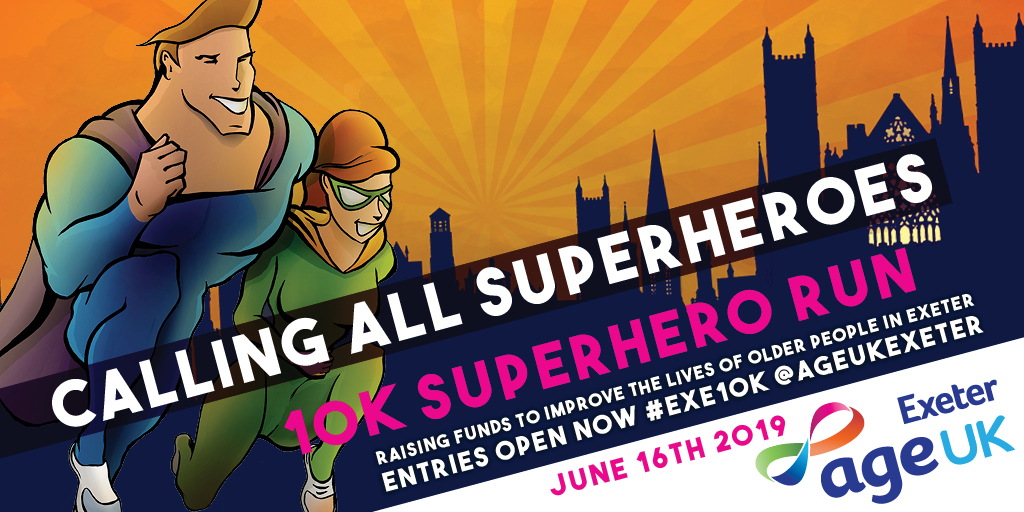 Published on 23 April 2019 09:30 AM
WELL DONE AND THANKS TO ALL OUR SUPERHERO RUNNERS!
The Results are in so click on the RESULTS button to get your time.
CLICK HERE TO SEE RACE PHOTOS
You need a pdf viewer to view your results, if you do not already have one please download one by clicking HERE
Fundraising: Thanks to all of you who have fundraised as part of this event. If you have set up online fundraising pages, we will recieve this automatically. If you have sponsorship money to hand in please hand it in at our Reception in our Cowick Street centre or send it to Age UK Exeter, 138 Cowick Street, St Thomas, Exeter EX4 1HS (Please make all cheques payable to "AGE UK EXETER").

Plastics: By using compostable cups and refillable drinks bottles we were able to significantly reduce the amount of single use plastic at our event this year. Thank you for your cooperation with this.
Thank you very much to this year's event sponsors and race partners - we counldn't have done it without you!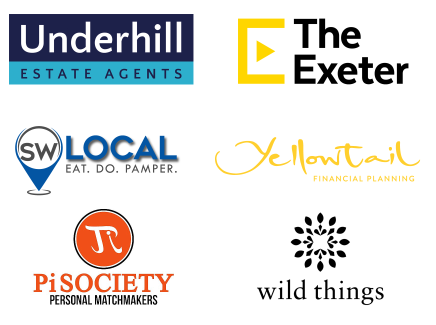 The Route.
Click HERE for a fully interactive version of the route (we're so clever!). It really is a beautiful route.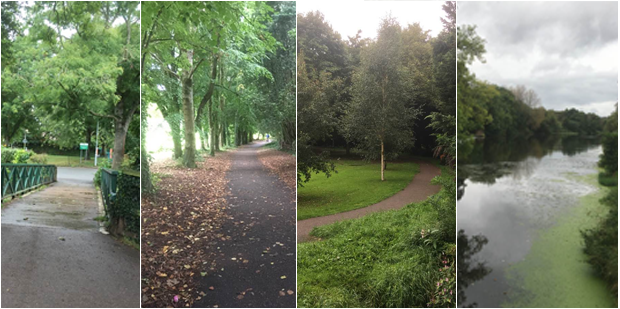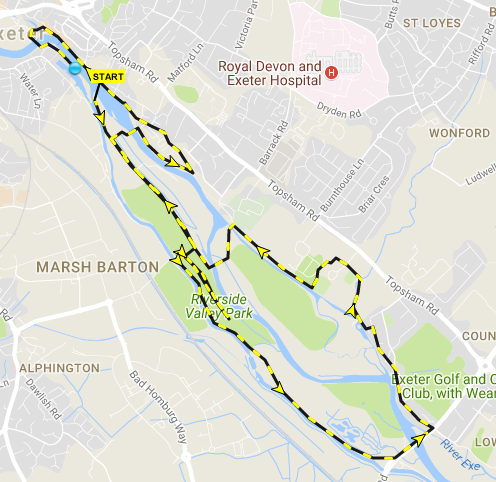 Fundraising.
Every year Age UK Exeter helps and supports over 5,000 older people and their families in the city. We help people living with dementia, people who are lonely and isolated and people who have no one to turn to. While we appreciate it's not always easy to raise sponsorship, we hope you understand that the money raised at this event is essential if we are to continue to support our most vulnerable older people. The people we support could be your neighbour, your parent, your partner or even you.
How to set up a fundraising page.
Getting sponsorship for your fundraising activities has never been easier thanks to the likes of Facebook, Virgin Money Giving and Just Giving. These social media sites and websites let you set up your own fundraising page that you can direct your supporters to so they can easily sponsor you with just a few clicks of a mouse or a few taps of a screen.
To help you set up an online fundraising page simply follow the instructions below or if you would prefer to download a sponsor form please click here.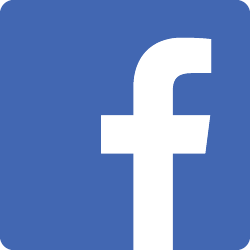 If you have a Facebook account and most of your friends do too then this is our preferred option as 100% of the money you raise will come to Age UK Exeter. The other sites take a small fee to process your donations.
To create a fundraiser for Age UK Exeter follow these steps:
Log in to your Facebook account
Click Fundraisers in the left hand menu of your News Feed.
Click Raise Money.
Select Nonprofit/Charity.
Select Age UK Exeter, choose a cover photo and fill in the fundraiser details.
Click Create.

Go to http://uk.virginmoneygiving.com/giving/In the top-right corner click on 'SIGN IN' and then 'Register'
Fill in all the boxes marked with an * and click 'Next'
Fill in your date of birth, create a password, confirm your password and click on 'Next'
Under 'My account' c

lick on 'Create a new fundraising page'

Select 'Personal challenge' and either choose a challenge from the options or select 'other' and enter details of your challenge in the box provided.
Enter the location and date the challenge will be completed.
From the drop-down box select the period you want sponsorship money to be collected after the challenege has finished and specify whether you are fundraising on your own or with others and click 'Next'
Enter "Age UK Exeter" in the search box and click 'search'. Select Age UK Exeter from the list of results.
Enter the amount you intend to raise, specify that Age UK Exeter is not contributing to the cost and click 'Next'.
The next page specifies your unique web address for your fundraising page which you can share with your supporters. Simply click 'next' and then click on 'Create my page'.
Congratualtions! You have now created a fundraising page.
In the top-right corner click on 'Sign Up'
Fill in all the boxes and click 'Sign Up'
On the next page click on 'Start Fundraising' and then under 'A charity' click on 'Start Fundraising'.
Fill in your Post Code, select your address and click on 'Continue'
Enter 'Age UK Exeter' in the search box and click 'Search'. Select Age UK Exeter from the list of results.
Select the type of event you doing.
Fill in details of your event.
Congratualtions! You have now created a fundraising page.