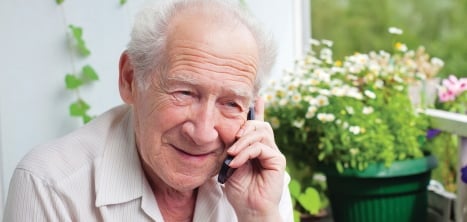 Please note, this service is not available outside Age UK Exeter - Head Office's catchment area.
Age UK Exeter
The Sycamores
Mount Pleasant Road
Exeter
Devon
EX4 7AE
United Kingdom
We offer a chat and social support, through telephone contact, one or more times a week for people who are living alone with few social outlets.
What is Careline?
People who receive this service really appreciate the relationships that are formed with the volunteers who call them. It can be a real lifeline to people who are isolated and lonely. It can also pick up potential problems before they become crises; an element of this service that is undoubtedly a huge bonus.

To make a referral or to discuss this service further, please contact Ellen on 01392 202092 or email e.holmes@ageukexeter.org.uk.
Becoming a Careline Volunteer
If you are interested in becoming a Careline Volunteer and would like to discuss this role further then please get in touch with Ellen on telephone 01392 202092 or email e.holmes@ageukexeter.org.uk.

For more details about the role please see the link below.
https://ageukexeter.sharepoint.com/:w:/s/RECRUITEMNT/EXtZBr9DzDlHpJE2BTi5F5MB0wcanu-rANGZC_E0ng6YBQ?e=MQlFCO