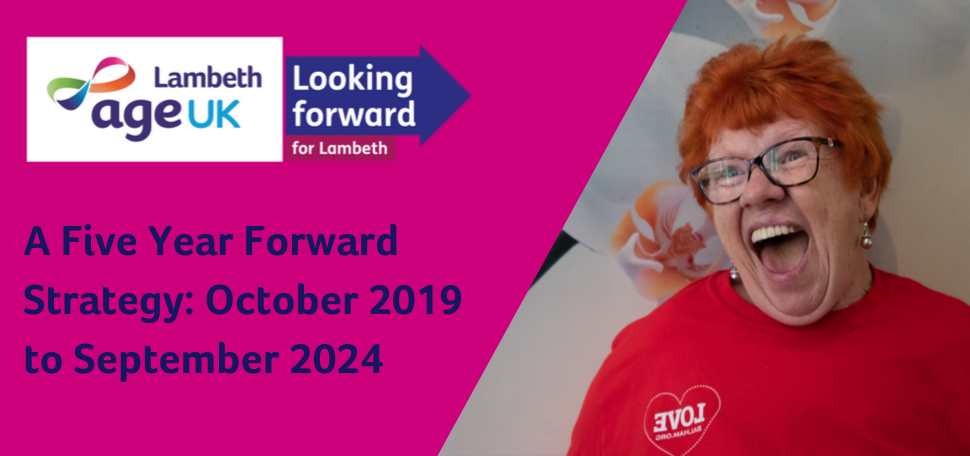 Age UK Lambeth has a proud history. For over 70 years, we have provided services that support the most vulnerable and isolated people in Lambeth. As a charity, we are trusted by both the public and our funders to deliver those services in a way that makes the greatest impact on the people who need them most.
Where we've come from…
Over the last few years, we have worked hard to ensure we are building on strong foundations. We are confident that our policies are fit for purpose. We have re-focused our services to be the best that they can be for the people we serve. Most importantly, we have reminded ourselves to put the older person at the heart of everything we do.
Where we are…
The need for services focused on Care and Support remains strong, and so does our commitment to providing those services. So many of our older people want to remain independent, but find their health declining and worry about being "put into care". Some are profoundly lonely, often using the television as their main point of contact with the outside world. We will continue to respond to the needs of those who ask us for help by developing and providing services that are right for them.
Where we're going…
Our society is changing. And our society's approach to ageing is changing, too. We have to keep up. There is a generation of people in their fifties and sixties who are still working full time, many of whom have adult children still living at home and elderly parents needing care. There has been an increase in unemployment for those over the age of 50. Acute feelings of loneliness and isolation are not necessarily age-related, especially in a big city like London, and a busy borough like Lambeth. These issues challenge us to think differently. And we're confident that changed thinking will lead to the development of some new services over the life of this strategy. That's also why our other strategic goal of Ageing Well is so important.
We've challenged ourselves to think differently, and we've set ourselves some ambitious goals. This strategy demonstrates how we intend to deliver on both those aims. Take a look today...
Take a look at our new Strategy
A Five Year Forward Strategy: October 2019 to September 2024