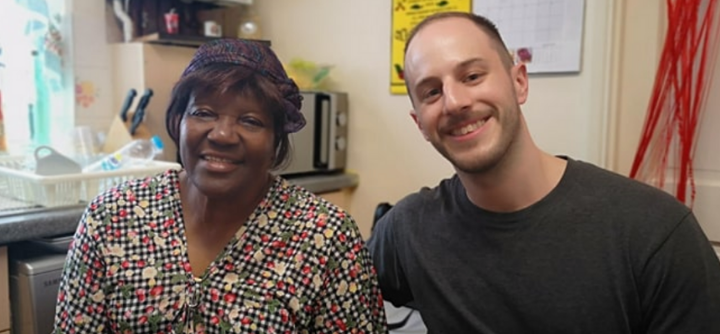 Become a volunteer today!
Are you interested in becoming a befriender or would you like to get involved with our other opportunities? View our other roles below or apply straight away using our online form.
Volunteering lets you contribute your time and skills to our work. As well as using your existing skills,
volunteering is a great way of learning new ones!
Here at Age UK Lambeth our team of volunteers continues to grow day by day! We couldn't do what we do without our dedicated volunteers and fully appreciate those who give up their time for us.
Now, it's easier than ever to be a volunteer for Age UK Lambeth. First, take a look of our amazing volunteer roles and then just click on the link below to be taken to our online volunteer form in order to apply.
MYadvice Volunteer
Provide support and advice to older and disabled people across the borough of Lambeth. Volunteering at the advice surgeries and/or answering advice calls (DBS required). Must be 18 or over. Availability required: weekdays 9am- 5pm.
Befriender
Visiting an older person in their home, having a cup of tea and a chat, going out together and helping to alleviate loneliness and isolation (DBS required). Must be 18 or over. Availability required: anytime (includes evenings and weekends).
Positive Connections befriender
Positive Connections is a new befriending service for people aged over 55 living with an HIV diagnosis. We are looking to match the client with a volunteer who has been living and flourishing with a positive HIV diagnosis, showing the client they can live happily and actively with the virus.
HandyFix volunteer
Are you handy with a hammer or sharp with a strimmer? Then our HandyFix team would love to hear from you. Our handypersons service the borough of Lambeth and help people with all their DIY needs.
SAIL+ volunteer
Input client data into our database and forward referrals to internal and external referral agencies. Cover lunchtime reception, take calls and complete the call log. Must be 18 or over. Availability required: weekdays 9am- 5pm.
SAIL Friend
We are looking at recruiting a small group of volunteers linked to the SAIL team who can support SAILors in undertaking practical tasks to help the client build momentum or to support clients attend the activities and events we signpost them to.
Social Hosts
Volunteering with MYsocial is a fun, flexible and social opportunity. We're looking for friendly faces to host small group events aimed primarily at older adults. You'll be there to meet guests, chat with them and make sure they're having a good time.
Social Engager
We're looking for people to call older people and engage people with the MYsocial calendar. You don't need to have any particular qualifications just the time to spend calling a few people a week for a quick chat, find out a bit about them and what they enjoy doing and advise them on some events they might like to join in with.