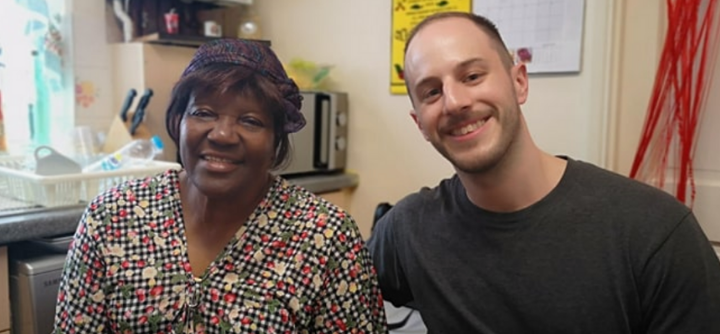 Covid hasn't stopped us, but we need your help!
We're in need volunteer phone befrienders to help our most isolated clients get through the next few tough months. Could you spare the time for a regular phone call to help brighten up a new friend's day?
Volunteering lets you contribute your time and skills to our work. As well as using your existing skills, volunteering is a great way of learning new ones!
Here at Age UK Lambeth our team of volunteers continues to grow day by day! We couldn't do what we do without our dedicated volunteers and fully appreciate those who give up their time for us.
We're still looking for volunteers during the Covid 19 pandemic, now more than ever we're having to think of creative ways to reduce social isolation. In particular we are looking for volunteer phone befrienders and 'mission volunteers' to do occasional tasks for clients in need. You can apply above for either role or contact us on 0333 360 3700 or email us at volunteer@ageuklambeth.org
Below are all the roles we hire for, not all of which are currently open for recruitment but please get in contact with us if you're interested in finding out more.
Neighbourhood Matchmakers
As part of the telephone befrienders service, we have volunteers to match our lovely clients to our wonderful volunteers based on location and hobbies, and interests! Our matchmakers need to be admin savvy but also confident on the telephone! The hours can be flexible but we require 2-7hrs per week between 9am-5pm Monday - Friday.
Befriender
Visiting an older person in their home, having a cup of tea and a chat, going out together, and helping to alleviate loneliness and isolation (DBS required). Must be 18 or over. Availability required: anytime (includes evenings and weekends).
Positive Connections befriender
Positive Connections is a new befriending service for people aged over 55 living with an HIV diagnosis. We are looking to match the client with a volunteer who has been living and flourishing with a positive HIV diagnosis, showing the client they can live happily and actively with the virus.
HandyFix volunteer
Are you handy with a hammer or sharp with a strimmer? Then our HandyFix team would love to hear from you. Our handypersons service the borough of Lambeth and help people with all their DIY needs.
MYsocial Digital Volunteers
MYsocial has moved a lot of events online due to the pandemic, therefore, we are looking for volunteer hosts to host virtual events for the MySocial members! Groups are up to 30, held on Zoom and you can choose to run an event on anything you'd like! We are looking for enthusiastic, engaging, and have a real passion for their chosen topic!
Mission Volunteer
We are looking for 'missions' volunteers to ad hoc to support people in the community who can't do normal tasks such as shopping, collecting prescriptions and even picking up pet food! We require volunteers to do at least 2 missions a month!
Social Hosts
Volunteering with MYsocial is a fun, flexible and social opportunity. We're looking for friendly faces to host small group events aimed primarily at older adults. You'll be there to meet guests, chat with them and make sure they're having a good time.
Phone Friends
Volunteer Phone Friends is a telephone befriending service whereby volunteers are matched to someone in the local community who is suffering from loneliness and isolation. As a volunteer, you are responsible to call them once a week for a friendly chat. You only have to give half an hour a week and you will help the most lonely in the community.
Digital Neighbours
This project aims to help get older residents online with all of the various social and life benefits that brings, including helping to overcome the digital divide. 'Digital Neighbours' help AgeUK Lambeth clients to get comfortable online. This is a community-based volunteering role in which the volunteer becomes something of a local digital hero in the neighbourhood in which they live.
The role is to provide basic digital support and learning to AUK clients in one's own local neighbourhood, over the phone, on Zoom or on the doorstep over a brew! This could be anything from helping people get familiar with facetime, savvy with search engines or brave buying things online, all the way through to helping someone solve a scary error message or even to just 'turn the bleeding thing on!
The role is very flexible, so you can complete the tasks around work and other responsibilities. We hope that by doing it in your local area it could fit easily into everyday life.
Home Cooks
We hope to address loneliness by offering another form of befriending and social opportunity through peoples love of food. Volunteers who love cooking and have a passion for helping their local community can cook and deliver a meal for a lonely resident in Lambeth,