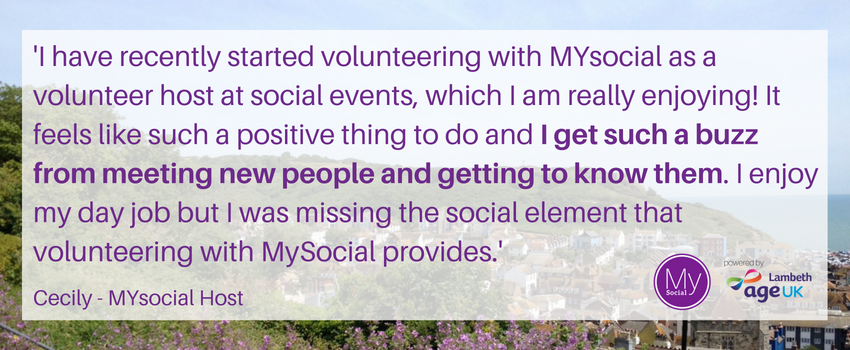 Volunteering lets you contribute your time and skills to our work. As well as using your existing skills,
volunteering is a great way of learning new ones!
Here at Age UK Lambeth our team of volunteers continues to grow day by day! We couldn't do what we do without our dedicated volunteers and fully appreciate those who give up their time for us.
Now, it's easier than ever to be a volunteer for Age UK Lambeth. First, take a look of our amazing volunteer roles and then just click on the link below to be taken to our online volunteer form in order to apply.
MyAdvice Volunteer
Provide support and advice to older and disabled people across the borough of Lambeth. Volunteering at the advice surgeries and/or answering advice calls (DBS required). Must be 18 or over. Availability required: weekdays 9am- 5pm.
Befriender
Visiting an older person in their home, having a cup of tea and a chat, going out together and helping to alleviate loneliness and isolation (DBS required). Must be 18 or over. Availability required: anytime (includes evenings and weekends).
SAIL volunteer
Input client data into our database and forward referrals to internal and external referral agencies. Cover lunchtime reception, take calls and complete the call log. Must be 18 or over. Availability required: weekdays 9am- 5pm.
Social Hosts
Volunteering with MYsocial is a fun, flexible and social opportunity. We're looking for friendly faces to host small group events aimed primarily at older adults. You'll be there to meet guests, chat with them and make sure they're having a good time.
Social Engager
We're looking for people to call older people and engage people with the MYsocial calendar. You don't need to have any particular qualifications just the time to spend calling a few people a week for a quick chat, find out a bit about them and what they enjoy doing and advise them on some events they might like to join in with.
MYsocial Art Event Facilitator
We're looking for an artist, art student or art teacher to lead an art class once a month or supervise a life drawing class one weeknight a month. The art sessions are designed to help reduce loneliness in older people or help fund Age UK Lambeth's work across the borough.
Fundraising Group Member
We would like to create two fundraising groups in Lambeth to hold events in the community to raise money. The groups would be comprised of approximately 7-8 people who would choose what kind of events they would arrange but typical events include: quiz nights, stalls at fairs, car washing, gig and comedy nights, taking collection tins to local businesses etc.
User experience researchers
Phoning customers of all AUKL services to get feedback about their experience. Being a "Mystery Shopper" for some AUKL services. Availability required: weekdays 9am- 5pm.
Pulross Centre volunteer
Rather than befriending a client one-to-one in their own home, befriend the residents of this Brixton Intermediate Care Ward. Play board games, set up film nights and socialise with residents who are waiting to be well enough to return home.
Lighthouse project volunteer
Become part of a community task force of volunteers changing lightbulbs in the home of older people. You will receive text alerts when a client is in need of a new lightbulb and you can accept the job or not based on your availability.
Trustee of the Board
Ever thought of helping a charity by becoming a trustee? We are looking for new trustees who are part of our diverse Lambeth community who would like to use their abilities to help us develop and deliver our services to older people.