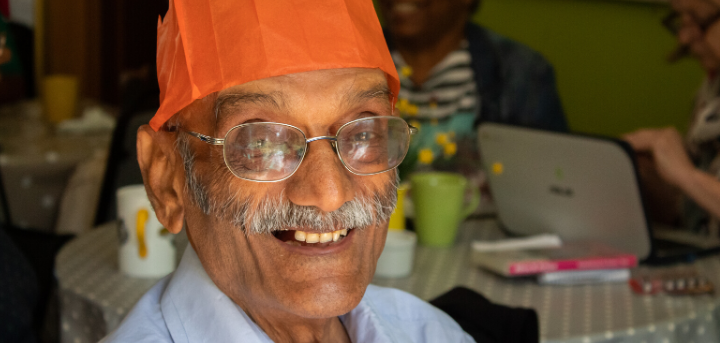 Over 56% of people aged over 65 in Lambeth live alone and over 2,500 class themselves as lonely. Social isolation and loneliness are terrible at any time of year but these feelings can be exacerbated at Christmas when all around us we are being told we should spend time with our families. For those that don't have families, you can feel excluded from the festive season.
At Age UK Lambeth we work hard to prevent loneliness all year round, but we go the extra mile at Christmas. On Christmas day we provide 80 Christmas dinners for older people (40 at the Vida Walsh centre and 40 delivered to people's homes) who would otherwise be alone.
We also organise social events between Christmas and New Year and into January which be a lonely and difficult time for people.
See below to find out how you can get involved!
Please complete this form if you would like to refer yourself or someone else who will be alone on Christmas Day and would like to attend our Christmas Day lunch on the 25th December.

If you are filling out this form on behalf of someone please seek their permission first before doing so.
Each year we run our Christmas campaign to help raise money for our Christmas Day lunches, which provides free lunches to people who would be alone or are housebound. We also raise money to help keep our MYsocial events running which helps keep older people in Lambeth throughout Christmas.

You don't have to donate your money to help us out over Christmas, we also take in-kind donations which means we take goods or items! These can be things like Christmas crackers, presents for attendees, turkeys or anything else you think might be helpful.