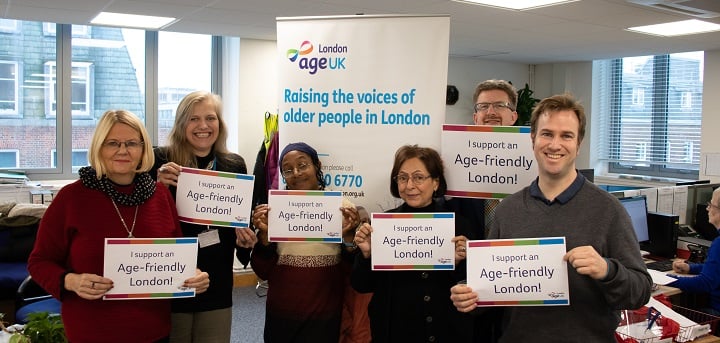 We have been working to promote the interests of older Londoners for over 40 years.
Come and join our team and help us campaign for an Age-friendly London!
Working for Age UK London
Age UK London is the London-wide charity that campaigns for an Age-friendly London. We work with over 300 older people's organisations in London to ensure that the voices of older Londoners are heard by decision makers across our city. We deliver campaigns and projects that improve the lives of older Londoners and we work to tackle the deep-rooted problems faced by the most vulnerable older Londoners.
------------------------------------------------------------------------------------------------------------------------------------------------------------------------------------
Chief Executive Officer - Full Time Role
We are looking for a new CEO with senior campaigning experience, to lead the organisation as we campaign to make London an Age-friendly City.
This is an exciting new challenge for the Charity and to succeed we need a CEO with a strong campaigning background. The CEO will lead the organisation to achieve the following over the next 4 years:
Establish a track record of effective campaigning for sustainable improvements in the lives of Older Londoners.
Create a sustainable income stream to support our campaigning work.
Develop our influence with local councils, pan-London organisations, and other organisations supporting Older Londoners, to ensure that the voices of Older Londoners are heard in decision-making.
Work with London's diverse communities to raise awareness of and tackle the deep- rooted problems faced by the most vulnerable Older Londoners including by way of behavioural change.
With senior level experience of developing the strategic direction for a campaigning organisation and translating this into operational activity, you will have a track record of successful campaigning to make sustainable change. You will be a first-rate relationship builder, working effectively with funders to secure grant income linked to campaigning activity.
You will be experienced in acting as the "public face" of a campaigning organisation – interfacing with the Press/Media, politicians and other stakeholders in the age sector. Also, you will be confident managing the financial aspects of campaigning, establishing the most efficient use of resources and assessing value for money.
Reporting to the board, you will thrive on generating the ideas and actions that will create enthusiasm and momentum to tackle the issues that face some of the most vulnerable Londoners.
To find out more about the role and to start your application, please click here