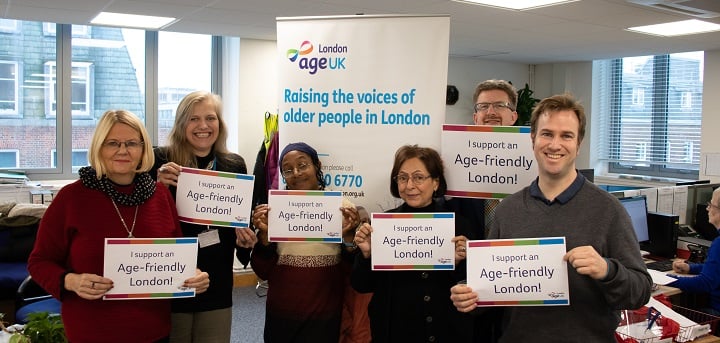 We have been working to promote the interests of older Londoners for over 40 years.
Come and join our team and help us campaign for an Age-friendly London!
Staff
Senior Management Team
Abigail Wood - Chief Executive
Abigail joined Age UK London as Chief Executive in April 2020. She previously worked as Head of Campaigns and Communications at the National Childbirth Trust, and prior to that held roles at Save the Children and Girlguiding. From 2014-19 she also served as a local councillor for an inner-London borough.
Contact Abigail Wood at awood(@)ageuklondon.org.uk
Kathleen Egan - Business Development and Operations Manager
Kathleen followed her time with our national counterparts by taking a brief sojourn at Sitra, before joining Age UK London in November 2013. Her role is to secure fundraising bids, manage campaigns and she leads our equalities work.
Contact Kathleen Egan at kegan(@)ageuklondon.org.uk
Jan Connolly - Finance and Corporate Services Manager
Jan joined Age UK London in March 2022. Previously, she has worked as Head of Finance for the national charity Calibre Audio, and as Finance Manager for a local GP surgery. Jan is currently the Treasurer for Buzzer Buses, a Dial-a-Ride community bus charity.
Contact Jan Connolly at jconnolly(@)ageuklondon.org.uk
Staff
Sharon Tynan - Campaigns Engagement Officer
Contact Sharon Tynan at stynan(@)ageuklondon.org.uk
Zara Ghods - on secondment to the Greater London Forum for Older People
Contact Zara Ghods at greaterlondonforum(@)outlook.com
Margot Luke - Finance and Corporate Services Officer
Contact Margot Luke at mluke(@)ageuklondon.org.uk
John McGeachy - Senior Campaigns Officer
Contact John McGeachy at jmcgeachy(@)ageuklondon.org.uk.
Aurelie Leroy - Communications Officer
Contact Aurelie Leroy at aleroy(@)ageuklondon.org.uk
Board
Our trustees are representatives from local Age Concerns and Age UKs in London. This ensures that our work is always best designed to support local projects helping older people in the capital.
Chair of Trustees
Imogen Clark, former partner in an international law firm, Clifford Chance.
Treasurer
John Cole, formerly a Partner in the Finance Services Practice of Ernst & Young LLP
Trustees
Kate James, former Chair of Age UK Sutton
Guy Stevenson, Chief Executive at Age UK Bexley
Elizabeth Sparrow
Tony Burch
Alice Woudhuysen
Diana Donovan
Ravin Weerawardena
Chinara Rustamova