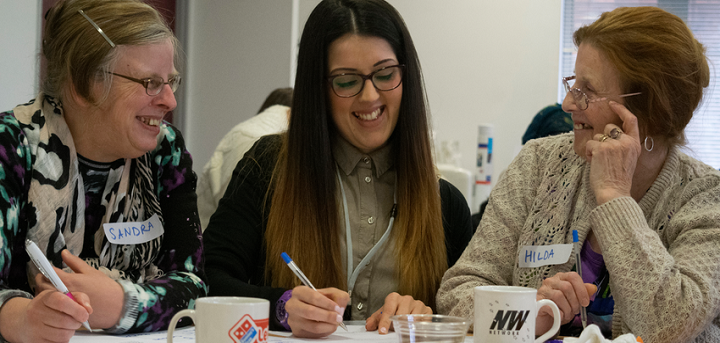 Age UK London have worked with over 50 companies in the last two years, providing volunteering opportunities for companies including Amazon Audible, Spotify and Google.
Partnering with Age UK London, can ensure your employees and customers engage with our work and contribute to joint successes.
Together, we can make London a great place to grow older.
Homecare Pilot
We worked with Accenture Liquid Studio on the Homecare pilot using the voice enabled Amazon Echo Show. 20 Londoners living alone, aged over 75 were recruited to take part and agreed to user testing homecare over a three month period.
The device was installed in their homes and configured for each tester. Training was provided to ensure that each person was comfortable to use the device on their own. It provided the ability to remotely support each person using a combination of video conference and insight of their activities via a portal. During the user testing period each older person gave regular feedback on their experiences which also included a weekly telephone call from the Accenture team. This user testing period helped to design and build a better and more suitable product for the target audience.
If you would like more information on the Homecare Pilot, please contact Sharon Tynan.