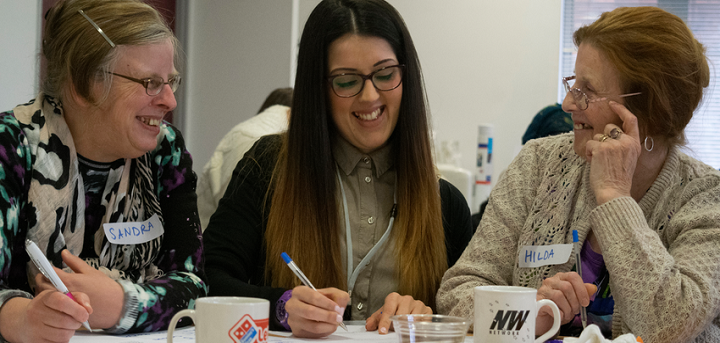 Age UK London have worked with over 50 companies in the last two years, providing volunteering opportunities for companies including Amazon Audible, Spotify and Google.
Partnering with Age UK London, can ensure your employees and customers engage with our work and contribute to joint successes.
Together, we can make London a great place to grow older.
Digital Workshops
Our bespoke digital volunteering workshops can provide your staff with the chance to come together, work as a team and deliver a digital workshop that could change an older Londoner's life.
Age UK London are a digital pioneer in the age sector, with our MiCommunity project laying the groundwork for the nationwide launch of EE's 'Techy Tea Party' initiative. Since then, our Wealth of the Web research, alongside the digital elements of our Fit 4 Purpose project, give us a unique insight into digital inclusion amongst older people in London.
We believe we can work together to get older Londoners online, and provide your employees with a chance to use their digital skills to impact the lives of older people.
"The techy tea party was a very enjoyable experience that I would recommend to anyone who wants to help older people. I cannot think of a better opportunity to help those people who helped us when we were growing up!" - Carmen, a corporate volunteer from Transport for London.
If you would like more information on digital workshops, please contact Sharon Tynan.
Volunteering
We also have a proven track record of arranging a variety of other volunteering opportunities, where your companies requirements dovetail with the needs of older people in London.
You could host a Christmas Party, facilitate a visit to an art gallery, give away tickets to a concert or use your unique skills to improve the lives of older people.
If you would like more information on how your company can volunteer, please contact Sharon Tynan.