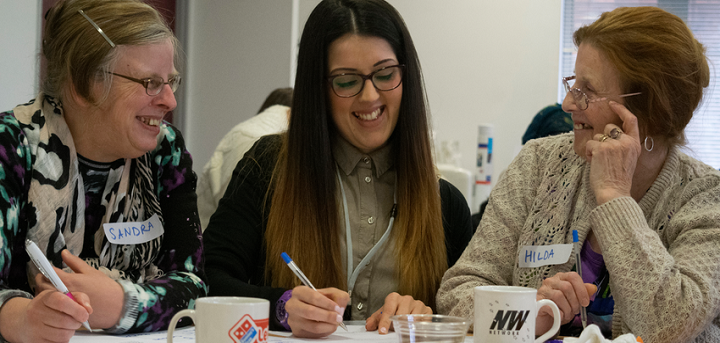 Age UK London have worked with over 50 companies in the last two years, providing volunteering opportunities for companies including Amazon Audible, Spotify and Google.
Partnering with Age UK London is a great way for your employees and customers to engage with our work as we campaign to make London a truly age-friendly city.
"Staying Safe and Active Online" Sessions
Since the Mayor's announcement in June 2018 that London has joined the WHO's Global Network of Age-friendly Cities and Communities, Age UK London is focused on campaigning to help London becoming a truly age-friendly city. According to the WHO, there are eight main themes that make up an Age-friendly City and these themes can be divided into two main categories: Active Ageing in London and Safer Ageing in London. Digital inclusion of older citizens is a hugely important feature of an age-friendly city, especially in an increasingly "digital-by-default" world.
With that in mind, we offer Staying Safe & Active Online sessions where corporate volunteers can sit with older Londoners and provide one-to-one support with their digital issues and queries. These sessions are a great way to help older Londoners to navigate the internet safely and to connect with members of your local community over a cup of tea!
If you and your colleagues would like to hold a Staying Safe & Active Online session, we will be more than happy to assist you. To run the event, we will require a small fee, which enables an Age UK London staff member to: coordinate the event; recruit the older Londoners; brief your team; and send you a report after the event.
To find out more, or to book a session, please contact Sharon Tynan.
We worked with Accenture Liquid Studio on the Homecare pilot using the voice enabled Amazon Echo Show. 20 Londoners living alone, aged over 75 were recruited to take part and agreed to user testing homecare over a three month period.
The device was installed in their homes and configured for each tester. Training was provided to ensure that each person was comfortable to use the device on their own. It provided the ability to remotely support each person using a combination of video conference and insight of their activities via a portal. During the user testing period each older person gave regular feedback on their experiences which also included a weekly telephone call from the Accenture team. This user testing period helped to design and build a better and more suitable product for the target audience.
If you would like more information on the Homecare Pilot, please contact Sharon Tynan.