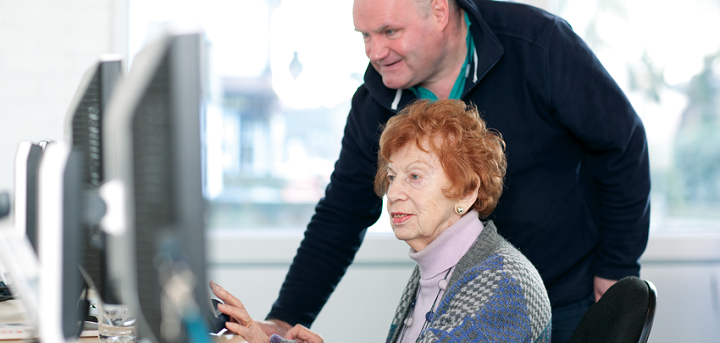 Age UK London relies on volunteers to help us offer vital services in the local community. Would you like to lend a hand?
There are a whole host of ways you can volunteer for Age UK London. We couldn't do what we do without our dedicated volunteers and fully appreciate those who give up their time for us.
Corporate Volunteers
Age UK London have worked with over 50 companies in the last two years, providing volunteering opportunities for companies including Amazon Audible, Spotify, and Google.
Our bespoke digital volunteering workshops can provide your staff with the chance to come together, work as a team and deliver a digital workshop that could change an older Londoner's life.
"My colleagues and I had a very fun afternoon. I found the older people's ideas and perspectives thought-provoking and I met some funny, lovely and interesting people." - Susanna, Corporate Volunteer.
We also have a proven track record of arranging a variety of other volunteering opportunities, where your company's needs dovetail with the needs of older people in London.
If you would like more information on how your company can volunteer, please contact Sharon Tynan.
Volunteer for a Local Age UK
There are also volunteering opportunities in your borough with your local Age UK. You could become a befriender, visting an older person regularly or calling them through the week, or you could train to give out information and advice locally.
To contact your local Age UK, visit our local directory.
Become a Trustee
Age UK London is looking to recruit trustees, both for Age UK London and local Age UKs in London. The role is vital to ensure that the strategic direction of the charity and apart from carrying out statutory duties trustees will bring specific skills (finance, law, PR, IT, marketing, business) and local knowledge to the role. Approximately 5 hours a month will be needed although this will vary slightly within each Age UK.
If you would like more information on becoming a trustee, please contact Heather Vernon.
Due to insurance restrictions, we can only accept volunteers who are aged 18 or over.
Why volunteer?
Volunteering is a great way to meet new people, learn new skills, and support the work we do in the community.
Who can volunteer?
Almost anyone can be a volunteer. We have a wide range of roles which suit different people and different skills.
Due to insurance restrictions, we can only accept volunteers who are aged 18 or over.
How much time do I need to give?
It depends on the volunteer role you are interested in. Some people give an hour a week, other people do more.