Silver Sunday 6th October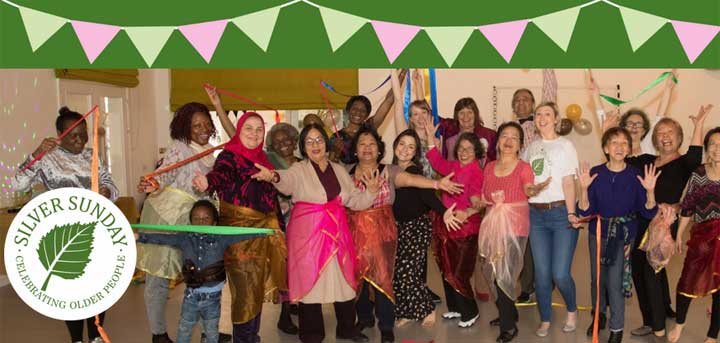 Published on 06 September 2019 03:35 PM
October 6th 2019 Silver Sunday and you
It started with a tea dance and within a few short years it has turned into a national campaign to tackle the blight of loneliness that affects so many older people.
Silver Sunday is a day in the national calendar, the first Sunday in October, when we ask the nation to pause and think about older people and celebrate their contribution to society.
Silver Sunday is a powerful vehicle to draw attention to the problem of loneliness amongst older people. Celebrating the contribution of older people to society, also increases their happiness and wellbeing and presents an opportunity to bring generations together.
Silver Sunday also provides an opportunity for local authorities, charities, community groups and private, voluntary and public organisations to promote what they already do to relieve social isolation and loneliness among older people.
Are you able to get involved? How about arranging a little get together for older people in your area, what about a fundraisin
g activity to generate funds for Age UK North Tyneside in our efforts to end loneliness. If you have an older neighbour why not give them a knock and a chat to make them feel appreciated and less alone.
We're looking for volunteers, could this be your way of giving something back in your own retirement or how about rallying the local Scout group and encouraging them to consider working towards their Silver Sunday Scout badge ?
There are lots of ways to get involved and assist our efforts to support older people in North Tyneside.
We'd like to hear your views, could you be part of our campaigns group where we poll local residents about matters of importance to them and older people in the borough?

Silver Sunday is a special day in the national calendar when everyone can come together to celebrate older people: a day in the nation's hearts where older people feel valued and are given new opportunities to get out of the house, keep their minds and bodies active, learn new skills, make new friends and connect with the communities and generations around them.
Join us this year by running an event, spreading the word or joining an activity. We'll be posting on our social media about events taking place in October as part of our own Age Takes Centre Stage celebrations and we'd love to hear more from you too.