Health and care services survey extended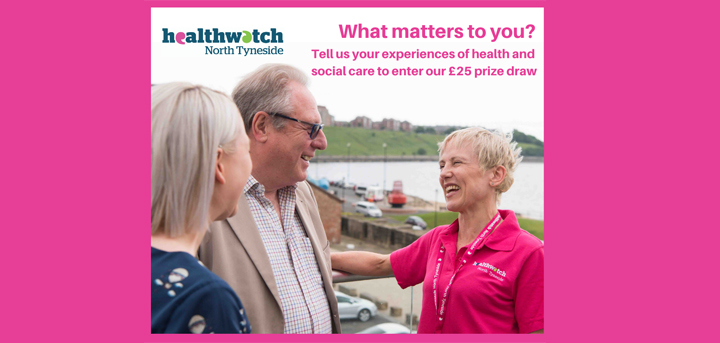 Published on 10 January 2020 03:03 PM
Healthwatch North Tyneside want to hear your experiences of health and care services
Tell Healthwatch about all the services you have used and tried to use, what's good and what could be better by completing a short survey. It will take about 5 minutes to complete and you could win £25 of high street vouchers.
It might be that you have received excellent care when you last went to the GP, you are frustrated with waiting for an appointment or that your mam's care home looks after her really well. If you live in North Tyneside or use North Tyneside services then Healthwatch want to hear from you.
Closing date for this survey is now extended to 3 February 2020. All of the information you provide will be stored and used anonymously.
Take the survey here https://www.surveymonkey.co.uk/r/whatmatters1920
Go to https://healthwatchnorthtyneside.co.uk/whatmatters/ to read more about the Healthwatch survey and an update on what people said and what Healthwatch did following the 2018 survey.
What you said last year - Healthwatch annual survey 2018
531 people from across North Tyneside told Healthwatch about their health and care issues in the 2018 Healthwatch survey.
The key issues people talked about were access to GP appointments, mental health, particularly in older people, young people and cancer. Healthwatch used this information to give feedback to service providers and commissioners.
To contact Healthwatch call 0191 263 5321, email info@hwnt.co.uk or go to www.healthwatchnorthtyneside.co.uk
Age UK North Tyneside Activities
Healthy Activities
Want to take part in activities but need some support?
Volunteer with Age UK North Tyneside