Carers Week 2021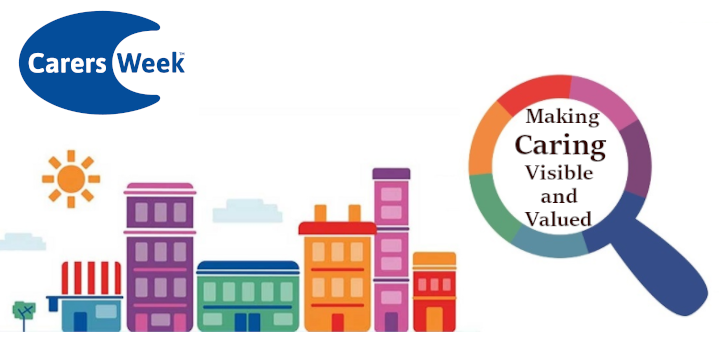 Published on 27 May 2021 02:10 PM
Carers Week 2021 Making Caring Visible and Valued
Age UK North Tyneside is delighted to be supporting Carers Week 2021. Carers Week is an annual campaign to raise awareness of caring, highlight the challenges unpaid carers face and recognise the contribution they make to families and communities throughout the UK. It also helps people who don't think of themselves as having caring responsibilities to identify as carers and access much-needed support.
Save the date for this year's Carers Week, which is taking place from 7 – 13 June with the theme Make Caring Visible and Valued.
Carers Week is the ideal time to focus on the impact that caring can have. Though caring can be rewarding, it's important that carers get the support they need to stop them putting off their own health needs or becoming isolated.
The campaign will be focusing on the importance of not only recognising carers, but also valuing them for the vital contribution they make - not just during the past year, but every day.
Carers Week is brought to life by the individuals, groups and organisations taking action and running activities throughout the UK. These activities reach carers, many of whom don't know that help is available.
They support carers who need a boost to keep going. They enable carers to share their experience of caring both before and after the coronavirus outbreak, and to connect to support and information they might not know exists.
This year it is more important than ever for us all to come together and show our support for carers.
Add your voice to help Make Caring Visible and Valued and pledge your support.
If you would like additional advice contact Age UK North Tyneside Tel: 0191 2808484 Option 0 or email enquiries@ageuknorthtyneside.org.uk
EveryDay Care & Support provides respite care and care at home services in North Tyneside & Newcastle. If you are a carer in need of a little support why not give our friendly team a call. Ask about our services Tel: 0191 2877028 or e mail enquiries@everydayuk.org
Your local Carers Centre in North Tyneside can also provide valuable advice and information https://www.northtynesidecarers.org.uk/
#CarersWeek2021
Could you be eligible to claim Carer's Allowance?
During Carers Week 2021 we're raising awareness of a carer's role and signposting them to the support they could be eligible for.
Do you :
spend at least 35 hours each week caring for a disabled person. You don't have to live with them or be related to them to claim
care for someone who receives the higher-rate or middle-rate care component of Disability Living Allowance, either rate of Personal Independence Payment daily living component, or any rate of Attendance Allowance
not earn more than £128 each week (after deductions)
not in full-time education
People assume that their savings or National Insurance record will stop them from being eligible, that's not the case. It won't make a difference to your claim.
In fact you don't even have to be related to or live with the person you care for to claim Carer's Allowance.
Don't be discouraged
If you receive State Pension you won't be paid Carer's Allowance. Don't let that put you off making a claim. If you're eligible then you could be awarded extra Pension Credit or Housing Benefit instead.
Also if you're claiming Universal Credit, you may be able to get an extra amount because of your caring role without actually applying for Carer's Allowance. This is known as a carer element.
Free Benefit Check
We always suggest that you give our Information & Advice team a call who will provide a Benefit Check for you simply over the phone.
How much is Carer's Allowance?
Carer's Allowance is worth £67.60 per week (for April 2021-22) and is usually paid every four weeks. Additionally you'll also receive National Insurance credits each week towards your pension if you're under pensionable age.
If your own circumstances were to change, i.e. you took a break from your caring role you must inform DWP. Again we can support you to do this with a simple phone call to our office.
Likewise if the person you care for is taken into hospital or care or sadly passes away you must make DWP aware as the benefit will cease to be paid, not immediately but this will happen.
Where to start?
You can either complete an online application on the Government's website or allow our Information & Advice team to support you through the process.
Firstly give us a call Tel: 0191 2808484 option 1. We'll take some details over the telephone and offer a benefit check. Then, based on the outcome of this we can arrange an appointment to support you through the process- if you wish. This process is free.
What have you got to lose by giving our Information & Advice team a call?
Other financial help for carers
Did you know that if you are caring for someone who is classed as severely mentally impaired, you may be eligible for a substantial reduction in your Council Tax? Read all about it here or contact our Information and Advice team.
Tel: 0191 2808484 Option 1 Monday–Friday 08:45-16:30 or e mail enquiries@ageuknorthtyneside.org.uk