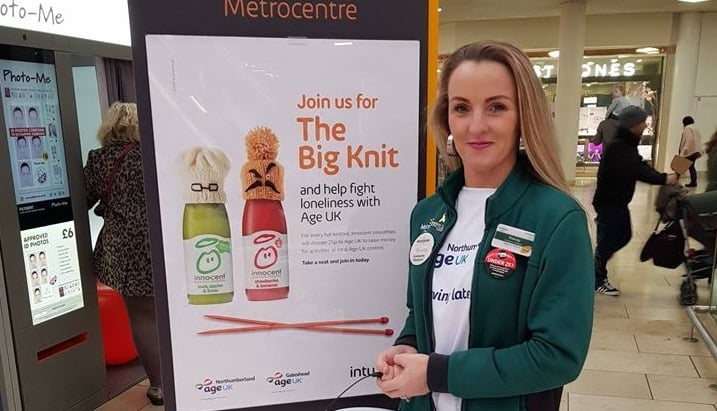 Meet just some of the Age UK Northumberland heroes, who help make a difference to the lives of older people, every single day!
Stacey Watson - Community Champion
Hi, I'm Stacey Watson the Community Champion for the Morrison's store in Bedlington, I play an important role in linking my store with the local community it serves. I am allocated 8 hours each week to carry out my role which involves arranging in store/collections/bag packing and product donations, co-coordinating in store fundraising for our charity partnership CLIC Sargent and other national charity campaigns. Alongside this, I represent Morrisons at local community events, recently I have attended a Rideathon which took place at my local gym (Paramount) and raised approximately £3500.00 for AUKN which is simply fantastic, I have also participated in an Age UK Knitathon at the Metrocentre along with some of the AUKN Team.I also support older people who attend AUKN's Day Centre in Blyth which I enjoy and find very rewarding. As you can imagine I get great satisfaction from my position, it is a truly rewarding role and I have to say I feel so privileged to be given the title "Community Champion".I am looking forward to continuing to support AUKN and those within my local community in the future.
Bill and Keith - Digital Champions
When we first started what seems years ago to be part of Age UK's Digital Programme little did we realise what exactly we were getting into. After a year, the joint training sessions with a local training company came to an end and we thought that was it, however, we were asked would we stay on and develop our own Basic Computer Training sessions which giving both our backgrounds we said yes. This, we decided would be less formal and more based on what the client wanted or needed.
What most people require is emails, internet, photo storage, so this is what we give them, all aspects of training are covered, ie, showing how to operate Gmail, keyboard skills, mouse skills and a whole raft of other need to knows are covered and learning quite quietly without the client realising they are being trained. The internet the 'black magic' is usually shopping which is more mouse work on the supermarket sites (very useful for our more elderly clients) and sites like Amazon.
We have had all kinds of clients who come with a mind splitting array of needs Some arrive with "I have been given this laptop, tablet by the family, etc and I don't have a clue or I bought this ages ago and never really learnt how to use it can you help me."
This brings me to Enid who turned up on a Monday morning. As I did not have any clients that day, I greeted her and asked what I could do for her. Enid is in her early nineties but at this time, I thought she was in her mid-eighties. She is bright and bubbly with an infectious smile and laugh and is easily the older person we have ever trained.
Enid explained that she had been trying find some medals owed to her later husband but her research had stalled and that she would like to learn to use the laptop but did not have one, we sat down and I showed her mine we talked about how it worked and what you can do with it I explained that I was sure that Keith would be able to help her with her medal hunt. We talked about where to go to buy one and where not to go I suggested John Lewis as being one of the better places as I knew they would explained them and not apply any pressure. I went through the broadband requirement and the costs and we looked at the John Lewis website to see what they were selling this first session ended with her saying she would come back with the Argos catalogue. So we could advise her and off she went two weeks later she returned.
I turned around and there she was standing in the room with a huge naughty smile grin on her face and announced she had bought a computer.
I looked at her and my blood turned to ice I thought I was going to have a heart attack there and then. My brain said what on earth have you done you have convinced this lady to spend close to £300 on something she won't use. How wrong I was.
Enid sat down and started to tell us she had gone to Newcastle on the bus went into Jonh Lewis to look at computers when this young man asked if she needed any help. It ended with her buying the computer and getting a free printer and Norton Virus thrown in and signing up to broadband and phone with them delivering and connecting up at the same time as setting up the broadband we were gob smacked.
This was the start of something special. I helped her get a gmail account and by the end of her first official two hours session she had sent her first every email and received a reply. Over the next few weeks she amazed us with her progress, never missing a session no matter what the weather. Four weeks on Keith and her had sorted out the medals and she announced that she wanted some new slippers so I sat beside her as she went the Amazon site and ordered new slippers. Enid subsequently went on to order groceries from Asda and a new microwave on Amazon all on her own. She is by far the best student we have had and still comes in if she messes something up. She is always amazed when we show her something new such as You Tube. Which she declares as Black Magic.
Norah - Day Centre
In March 2018, we shared a very special birthday celebration when one of our retired volunteers turned 100 at the day centre she used to run. Norah White began attending our Amble Day Centre as a service user almost 20 years ago, after taking her wellearned retirement from running the centre as a volunteer for 25 years. The Day Centre was set up in the early 1970s in the church hall to provide a social group that would offer friendship, support and a good meal to older people in the community. In the beginning the centre was run totally by volunteers and provided for those in Amble and the surrounding area. In the early 1980s the Day Centre was offered a home in the newly built Dolphin Court, Amble, where it resides today. Living all her life in the town, Norah is a well-known and loved figure in the community. After being asked by her friends to 'help out' at the centre, Norah thought it would a good opportunity to give something back. She soon become more involved in the organisation and running of the centre but shortly after her 80th birthday she took the decision to step down and hand the reigns to others but not to leave the group. On her 100th Birthday, Norah enjoyed a party with her friends and family at Dolphin Court and was also visited by Day Services Manager, John Hay.