Age UK Stockport offers a free and confidential information and advice service for older people, their families and carers.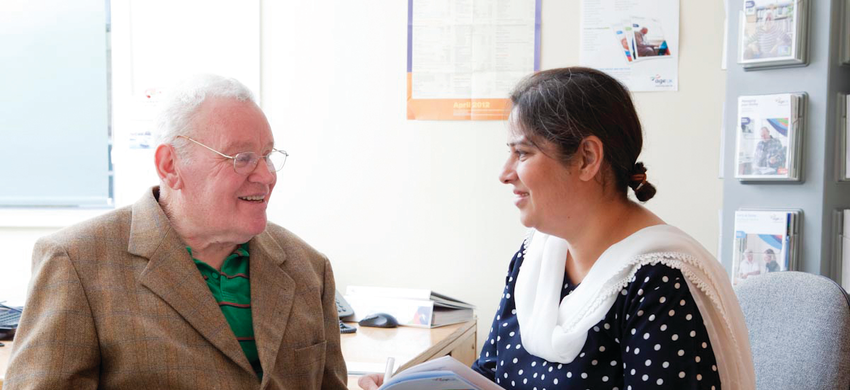 How to access the service
You can access our information and advice service in a number of ways.
By phone: 0161 477 1213
By email: advice@ageukstockport.org.uk
At our office: Book an appointment or drop-in to our office at Unit 34 Great Underbank, Merseyway Shopping Centre, Stockport, SK1 1PD - next door to the post office.
Opening times:
The public office is available for callers by phone or in person and is open from 9.30- 3.00pm Monday to Friday.
Topics we cover:
Visit or call our office in Great Underbank, Merseyway Shopping Centre, Stockport (near the Post Office) for information and advice on a wide range of subjects.
These include:
Benefits
Housing
Transport Options
Consumer and utilities problems
Legal matters, tax and financial matters
Paying for care
Information and advice for carers
Employment issues
Reducing isolation
Personal and home safety
Finding or accessing practical help at home
Improving or maintaining mobility, health and independence
Identifying and supporting people with emotional issues
Support and encouragement to identify options and issues
We will help to complete application forms and are happy to speak to third parties on behalf of our clients to resolve problems. An appointment is advisable for complex issues.
All our advisors are trained to give general advice but also with a focus on issues affecting those in later life, their carers and families. We also provide telephone advice and a limited home visiting service for people unable to get to our office. We also link closely with the new Stockport Targeted Prevention Alliance (of which Age UK Stockport is part) and a range of other services provided by both Age UK Stockport and other partner agencies.
Our workers take a holistic and individually focused approach and will work with you to understand the situation and discuss the type and level of support that may be wanted and where it can best be found.
Free booklets and online information
Age UK produces free information guides and factsheets on a wide range of topics, including home adaptations, dementia, and advice for carers. You can find a complete list of guides and factsheets on the Age UK national website.

If you prefer to read information online, the Age UK national website has information and advice on many topics, including how to find a care home, how to avoid scams, and Power of Attorney.