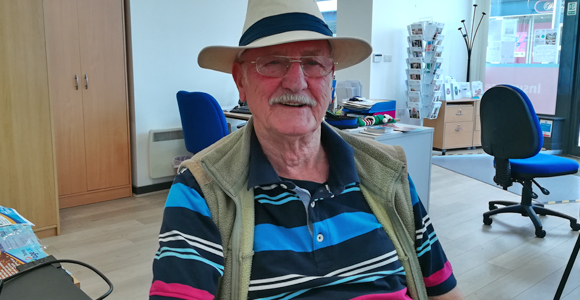 Phil has the honour of being our oldest befriending volunteer, turning 90 in Nov 2017.
Phil volunteers each week to visit Don, who is 103, blind and losing his hearing.
"I like to talk to him about 'silly things', something that will lighten his mood and take his mind off his daily situation. I think he looks forward to me coming and he usually ends our visit with a smile on his face and happier than when I arrived."
Sometimes life can be difficult for people as they get older. As they become frailer, it becomes more and more difficult to carry out those every day tasks, and get out and about on their own. But this is where our volunteers can help.
Befriending:
We have volunteers throughout Torbay, who offer their time, skills and talents to help older people as a good friend might. They help in many ways. For example they might:
provide companionship
visit someone for a cup of tea and a chat
stimulate mental awareness
help with hobbies and crafts
discuss shared interests and memories
help build confidence
It all depends on what support is needed. Volunteers visit people, perhaps for an hour each week, in their own home. A friendly face or a listening ear can make a positive difference to older people living in the community.
Careline:
Our careline volunteers come to our offices in Paignton to telephone housebound people for a regular chat and to see if all is well. In these ways, older people are helped to continue living at home; volunteers make new friends, and do something rewarding and worthwhile; and everybody has fun!
Find out more
Contact us to arrange the service: Phone 01803 555 181 or email carol@ageuktorbay.org.uk