Volunteer Recruitment Fair
Are you age 18+ and looking for a community-based volunteering opportunity which makes a difference in older people's lives?
Come to our Volunteer Recruitment Fair and find out how you can get involved!
Venue: Paddington Library, Porchester Road, London W2 5DU
Date: Thursday 14th March 2019
Time: 11am – 2pm
Age UK Westminster, Befriending Film
At Age UK Westminster we believe it's time that people stopped thinking about loneliness as an inevitable part of ageing and have produced a short campaign video about our work.
Join our Befriending Campaign
Age UK Westminster's Befriending campaign. Will you help us give a lonely older person a friendship to cherish?
Tackling Isolation and Loneliness with Age UK Westminster's Christmas Day Lunch Project
For most of us, Christmas time is an opportunity to celebrate with our family and friends but for many older Londoners this is sadly not the case. New analysis by Age UK has found that 198,000 older people in London can go for a month without meeting up with a friend, and that 19,000 over 65s in the region have not even had a conversation with family or friends over the same period.
Age UK Westminster's Christmas Day Lunch Project is a yearly project to make Christmas Day a special and enjoyable time for elderly residents who may be suffering from loneliness and isolation. This intergenerational project has been running for over 20 years and is the only project of its kind in the City of Westminster.
Working alongside 150 volunteers from Parkhouse Christmas Lunch Team and St Paul's Boys School, St. Paul's Girls School and Age UK Westminster delivered Christmas lunch to 340 Westminster residents, brightening their Christmas Day with a lunch, friendly faces and companionship.
Guests also received a gift bag containing: chocolates, shower gel, shortbread biscuits, a £5 M&S voucher, and a Christmas card. This was made possible by contributions from the following corporate sponsors: Bendicks Mints, Halcyon Days, Molton Brown, Walker Shortbread and Caroline Gardner for the Christmas Cards.
Although loneliness is by no means an inevitable part of ageing, difficult life events that many experience as people get older, such as bereavement, serious illness or reducing mobility, can all be triggers for becoming more isolated and feeling lonelier. During Christmastime the companionship and support of friends and family seems to mean even more than usual – which is why loneliness feels even harsher.
Age UK Westminster first became involved with the Parkhouse Team in the early 1980s helping to identify larger numbers of isolated older people in Westminster to receive Christmas lunches. Age UK Westminster is now the main collaborator on this project and their project coordinators, Shelagh Sutherland took over the responsibility of organising the Christmas Lunch Project in 1987 and Paddy Corbett joined her in 2010.
Fiona Healy Connelly, Chair at Age UK Westminster said:
Here in Westminster we try and find local solutions to local problems, so we work very hard on our relationships with local businesses and trusts. We want to encourage a collective duty to our older residents, and we are grateful that many trusts, large corporations and small businesses feel the same.
Having survived a financial crisis 5 years ago, I am thankful that I have an excellent Chief Officer – Mehfuz Ahmed and a full and hardworking staff, volunteers and board of Trustees. In the last couple of years the organisation started to expand again and the team has grown from 5 staff to 13 staff and over 130 volunteers.
The Charity has introduced some new projects such as iTea parties where young volunteers help older people to use their IT devices and get more out of life online. We have also introduced a number of arts projects mixing younger and older people. We have expanded our Befriending & Activities project with the help of some large local property companies. Our core offering remains- tacking loneliness & isolation, Information and Advice and the team there has expanded to include a specialist Debt Advisor. In the last year we have opened our second charity shop in the Church Street area.
Mehfuz Ahmed, Chief Officer at Age UK Westminster, said:
I am delighted to be part of this great cause since 2004, "Loneliness is a huge issue that affects older people all year round, however we know that the festive season can be a particularly difficult time. Grants received helped provide these lunches and remaining funds went towards vital services to help us to tackle loneliness throughout the year which are a real lifeline to local older people. Please do give generously – with the help of the local community we can ensure we are able to do more to support older people who feel they have no one else to turn to."
Paddy Corbett, Christmas Day Lunch Project Manager, said:
"Our Christmas Lunch Project has been going for so long that our original volunteers, have had their children and grandchildren follow in their footsteps and help us make the deliveries. The project gives younger people the opportunity to support isolated lonely people and see a side of the world that they would never normally see. We always tell our volunteers that the lunch isn't important, it's sitting down with the older person and wishing them Merry Christmas that makes a real difference."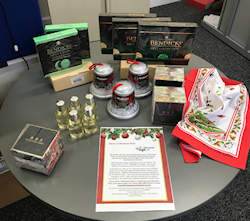 Help with benefits
Need a bit of help with managing your Direct Payments? We have advice to help.
Need Information and Advice?
Age UK Westminster offers a free and confidential information and advice service for older people, their families and carers.
Activities and events
Find out here about activities and events taking place at Age UK Westminster.
Support us
Your support helps us deliver services to the older people of Westminster. Support comes in many forms including Donations of stock for our Charity Shop, Volunteering, Fundraising, Donations and Legacies