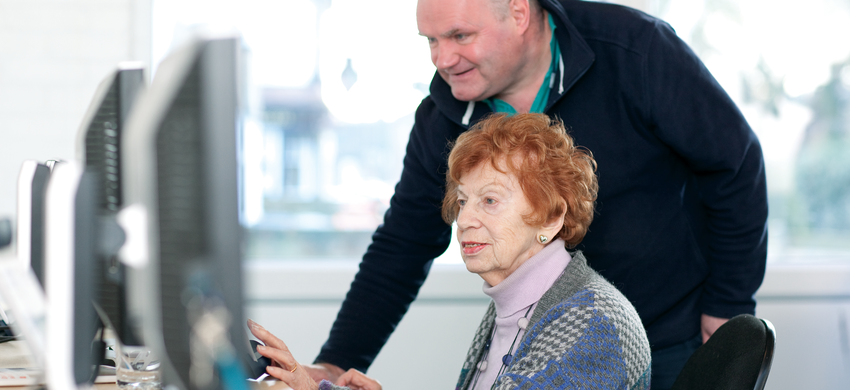 Age UK Westminster relies on volunteers to help us offer vital services in the local community. Would you like to lend a hand?
Our volunteers make a unique contribution to the life of older people in the City of Westminster by providing a wide range of services and support; there is little that cannot be achieved through shared enthusiasm, creativity, a diversity of skills and range of experience.
We welcome those of all ages and backgrounds who would like to make time for older people in Westminster. Please see below for all our current volunteering opportunities. Contact us to find out more
Thanks to funding from the City Bridge Trust, we can offer tailored volunteering opportunities for those who are 65+ as part of our Give and receive project.
---
Age UK Westminster Volunteer Newsletter
Welcome to the latest volunteers' newsletter.
Our newsletter contains details of volunteering opportunities, support for our volunteers and much more.
AUKW Volunteers Newsletter August 2021
---
Volunteering information/Q&A Session
Want to find out more about our volunteering opportunities? Then, join our monthly virtual Information Session.We run a virtual volunteering information session every first Tuesday of the month, from 11am-12pm. The session provides an opportunity for anyone considering volunteering with Age UK Westminster to join us via Zoom and find out more about how you can get involved.To join one of the sessions, please book your space using this Eventbrite link https://www.eventbrite.co.uk/e/age-uk-westminsters-volunteering-informationqa-session-tickets-195514909357
---
Age UK Westminster COVID-19 Lockdown Loneliness Campaign
---
Volunteering Opportunities with Age UK Westminster
What is volunteering at Age UK Westminster
Read about volunteering opportunities at Age UK Westminster and what's involved in volunteering with us.
Role Overview:
Drafting and creating posts for Twitter, Facebook, LinkedIn and Instagram
Curating content in line with Age UK Westminster's ethos and sharing suitable partner content
Using analytics to strengthen the marketing strategy
Supporting with preparing content for our website and the newsletter if needed
Some light research or design work, according to your skills
Supporting at any virtual or in-person events if possible
Role Overview:
Helping the project leads to set up the venue and session activities on-site before the sessions begin.
Welcoming clients to the session; providing a friendly smile as people arrive and chatting with clients and their carers.
Observing sessions, feeding back to both project leads and securing recording the
Liaising with carers to note any changes in participants after the sessions.
Helping to gather quantitative feedback as part of the programme evaluation.
Helping to compile the final case study reports based on observations and feedback.
Role Overview:
Acting as the first point of contact for the office and responding to enquiries from callers
Providing information about AUKW services and signposting callers to other relevant agencies
Logging all telephone enquiries on to AUKW CRM database
Ensuring that messages are passed on to relevant staff members promptly and as appropriate
Ensuring that voice messages that are left on the phone the previous day are actioned promptly
Booking appointment for service users who wish to have face-to-face meetings with the I&A team
Assisting with any other general admin tasks as required
Role Overview:
To provide face-to-face, telephone and online digital skill training to older residents in Westminster.
To provide personalised training and support to older people wishing to learn how use digital technology.
to enable an older person to acquire the knowledge and confidence they need in using digital technology as part of their day-to-day life.
To help clients to understand the benefits of being able to use the internet for both practical and social purpose.
AUKW is committed to tackling loneliness and isolation amongst older residents of Westminster.
If you are aged 18 and over, enjoy talking on the phone and would like to build friendships with older people, then our Telafriend Volunteer role would be ideal for you.
Could you visit or call a lonely older person? Help us fight loneliness in Westminster by becoming a befriender.

Could you help us to provide vital information and advice to older people in Westminster?
As a volunteer at our charity shop you will be assisting in the day to day running of the shop. You should be ready to assist in serving customers, processing stock, till operation and the handling of cash.

Could you generate income for Age UK Westminster through events and by assisting in developing and implementing a strategy for funding.
We are keen to hear from local volunteers who can to spare a couple of hours a week or so to support our new shopping/food parcel delivery service that we are now providing to many of our vulnerable clients across Westminster.
Other volunteer opportunities
General office duties
Project Admin for Debt Intervention
Community Events/Fundraising
Social Media/Marketing & Website
Company Secretary
Are you aged 65+ and looking to volunteer?
Age UK Westminster offers a variety of volunteering opportunities catering to individual's differing skills and abilities:
To find out more download the leaflet below
Volunteering as a route to getting back into work.
Thinking about getting back into work?
Volunteering is a great way to improve your CV and give your confidence a boost if you're thinking of getting back into work. With support of an amazing team and rewarding, local opportunities ... what have you got to lose?
Charity shop volunteers
If your retail trained or wish to gain experience of working in a retail environment and are interested in volunteering with our Charity Shop, please talk to one of our staff in the shops.
Who can volunteer?
Volunteering is open to almost everyone with a wide variety of roles being availble. (See "Is there and age limit to volunteering?" below)
Contact us to find out more.
How much time do I need to give?
It depends upon the role that you are interested in but generally volunteers have a choice of days and can commit as many hours as they wish from a minimum of one hour per week.
Is there and age limit to volunteering?
Volunteers must be aged over 18 and there is no upper age limit, other than for drivers.
Are there any other restrictions?
All volunteers are DBS checked.
Volunteering leaflet
Age UK Westminster offers a variety of volunteering opportunities so we can provide roles suitable for everybody, to find out more read the below leaflet