Our Charity Shop is open and following social distancing guidelines.
You will find good-quality donated goods to suit all budgets including ladieswear, menswear, children's wear, shoes, accessories, homewares, books and media.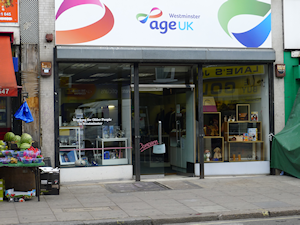 Opening Times
Opening hours: 10.00am - 5.30pm Monday - Saturday.
Age UK Westminster
522 Harrow Road
London
W9 3QF
Telephone: 07989 113995
Donations Needed for our Charity Shop
Age UK Westminster are seeking donations for our charity shop in Harrow Road
Donations
We are sorry but we currently cannot offer a collection services for those donating goods to the shop.
The shop can accept donations between 10am and 5pm, Tuesday to Saturday, and for those without transport might want to consider using a local taxi service. For those with large quantities, the side entrance in Ashmore Road is easier and safer for parking and you should phone the shop first on 07989113995 so that we can arrange access.
We hope to reinstate the collection service when logistics permit, and thank you for your patience in the meantime.
Get involved
If you'd like to volunteer as a retail assistant with the shop, please talk to one of our staff in the shops or visit our Volunteering page Charity shop volunteers will receive an induction and "on the job" training. see our volunteering pages here.