At Age UK Westminster we offer free drop in sessions throughout the City of Westminster for our clients in need of some information and advice, Priscillia explains her recent experience with this vital service below.
Read Priscillia's story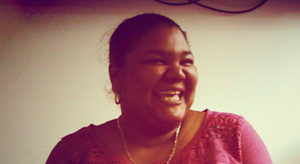 Priscillia Dalsan lives in the London borough of Westminster and has used Age UK Westminster's Information and advice service on many occasions on behalf of her mother Theresa. Priscillia's mother has had two strokes, is partially sighted, has diabetes, and is in the early stages of Alzheimer's.
Priscilia and her husband Modeste are her main carers. They accompany Theresa on her frequent medical appointments and take her to the shops, or do her shopping for her. Theresa says that Modeste likes to push the trolley in the supermarket because it gives her support but also because, 'She thinks that if she was seen with any kind of walking frame or a wheelchair everyone would know she is sick, however if she is seen using a trolley people will think she is only shopping.'
Priscillia says, 'I visit her, but I do not want to take her independence away, I let her live her own life. She has always been independent, so I do not want to be stopping her from doing some of the things she is able to do.'
Age UK Westminster have helped Priscilla and Modeste to claim disability and council tax benefits as well as securing a blue-badge on behalf of Theresa. We have also provided guidance and support with completing a power of attorney application form. Priscillia says 'A lot of the forms are difficult and nerve racking... I would not want to tackle them by myself. '
Having a power of attorney has made a huge difference for the family. Priscillia explains, 'It is a great help, it means that I have taken charge of my Mum's financial welfare and health…I pick up money as I wish for her, and sort out her bills and arrange for direct debits and standing orders. It makes it easier for me and it makes her feel easier. I do not have to ask her permission. I do not have to drag her out everywhere'.
Get in touch
If you are experiencing issues similar to Priscillia and her family then please get in touch today.