At Age UK Westminster we offer free drop in sessions throughout the City of Westminster for our clients in need of some information and advice, Priscillia explains her recent experience with this vital service below.
'I don't really know what Covid is. I expect it hasn't been pleasant':
Living with Dementia in lockdown
Thursday 4 March 2021, 4:18pm
By Will Tullis, ITV News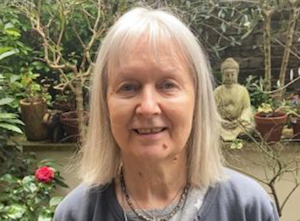 Kate Condliffe, who has dementia, wakes up each morning with no knowledge of the pandemic
Every morning of the pandemic, Kate Condliffe wakes up to a world where Covid doesn't exist. "I don't really know what Covid is. I expect it hasn't been pleasant," she says. Kate suffers from dementia. She starts each day with no knowledge of Covid. Lockdown, social distancing and the dangers of coronavirus need to be explained to her every day. "I have to tell her there's a serious virus that could kill us," says Kate's partner of 40 years Cordelia Galgut, "whatever I say is gone in a nanosecond"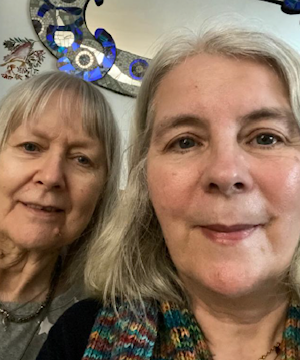 Dementia sufferer Kate with her partner of 40 years and carer Cordelia Kate is one of around 850,000 people in the UK with dementia. Like so many.
Kate is one of around 850,000 people in the UK with dementia. Like so many dementia sufferers, lockdown has had a significant impact on her condition: it has made her more confused, frustrated and miserable. Dementia sufferers across the country have "deteriorated horrendously" since the start of the pandemic, according to dementia care worker Sharon Lawson. "Covid's taken their lives... it's made them deteriorate and go down mentally when they otherwise wouldn't have done."
209,600 people will develop dementia this year, that's one person every three
minutes.
Dementia is a condition which is managed by interaction and stimulation, with
physical contact often a key part of treatment. Lockdowns, social distancing and the risk Covid poses to people with dementia means that social and physical interaction has been put on hold. Dementia day centres and therapy groups across the country have had no choice but to close their doors until the virus is under control. "If you are sat in a room and you don't see anyone you will deteriorate quickly...this is the effect Covid is having," says Ms Lawson, who works for Age UK in Hull. She gives an example of a woman who was managing well with her dementia pre-pandemic: "She was absolutely fine, she had lots of stimulation. But now she can't go out, her condition is horrendous."
92% said the pandemic has accelerated dementia symptoms in the person they care for.
Leading dementia charities surveyed 1,001 people who care for someone with
dementia. More than 92% said the pandemic had accelerated dementia symptoms in the person they care for.
Some 31% reported an increase in difficulty speaking and holding a conversation, and 25% reported the person they care for has difficulty eating by themselves. It isn't just dementia sufferers who are struggling. Carers suffer alongside those directly impacted by the disease: "It is crucifying me...I'm on my knees with exhaustion," says Kate's partner and carer Cordelia, who works part-time as a psychologist. Cordelia is an expert in mental health, but there is no qualification that can prepare you for the grief of dementia. "I'm doing a lot of grieving for the person I've lost. I've lost my soul mate." Unpaid carers have been the hidden heroes of the pandemic. According to Carers UK, there were 9.1m unpaid carers before the pandemic. By June last year, there were already 13.6m.
I'm doing a lot of grieving for the person I've lost. I've lost my soul mate.
Cordelia Galgut, whose partner Kate has dementia
"Dementia sufferers and carers have been completely disregarded during the
pandemic," says Cordelia, "carers have gone without extra support in this period... what about us?" Next month is Kate's 73rd birthday. "My ideal birthday present for Kate would be for her brain to work as it used to," says Cordelia, "How wonderful that would be."
---
Read Priscillia's story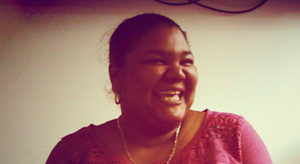 Priscillia Dalsan lives in the London borough of Westminster and has used Age UK Westminster's Information and advice service on many occasions on behalf of her mother Theresa. Priscillia's mother has had two strokes, is partially sighted, has diabetes, and is in the early stages of Alzheimer's.
Priscilia and her husband Modeste are her main carers. They accompany Theresa on her frequent medical appointments and take her to the shops, or do her shopping for her. Theresa says that Modeste likes to push the trolley in the supermarket because it gives her support but also because, 'She thinks that if she was seen with any kind of walking frame or a wheelchair everyone would know she is sick, however if she is seen using a trolley people will think she is only shopping.'
Priscillia says, 'I visit her, but I do not want to take her independence away, I let her live her own life. She has always been independent, so I do not want to be stopping her from doing some of the things she is able to do.'
Age UK Westminster have helped Priscilla and Modeste to claim disability and council tax benefits as well as securing a blue-badge on behalf of Theresa. We have also provided guidance and support with completing a power of attorney application form. Priscillia says 'A lot of the forms are difficult and nerve racking... I would not want to tackle them by myself. '
Having a power of attorney has made a huge difference for the family. Priscillia explains, 'It is a great help, it means that I have taken charge of my Mum's financial welfare and health…I pick up money as I wish for her, and sort out her bills and arrange for direct debits and standing orders. It makes it easier for me and it makes her feel easier. I do not have to ask her permission. I do not have to drag her out everywhere'.
Get in touch
If you are experiencing issues similar to Priscillia and her family then please get in touch today.