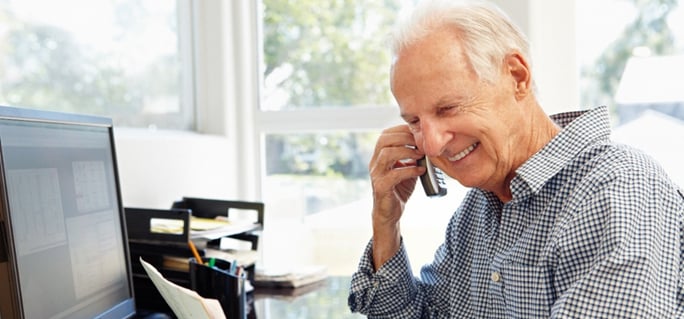 Free and comprehensive advice on a wide range of subjects.
We can help you identify the problem, explain the choices available and help you decide what you want to do. We may be able to provide individual support if you need further help to resolve the problem.
Who can benefit from the Information & Advice (I&A) service?
Anyone who needs information or advice about any issue affecting older people in Wiltshire and Swindon.
We can help with a wide range of issues:
A range of welfare benefits for older people - including how they are calculated, how to apply and how to resolve disputes (please note that unfortunately we are no longer able to offer support with working-age benefits including Jobseeker's Allowance, Employment Support Allowance, Universal Credit, Working Tax Credit)

Health and social care, local authority assessments, residential care, local authority charging rules and accessing care
Housing options and queries, obtaining disability-related adaptations and how to access different types of housing

Leisure activities, l

ocal services and organisations
Power of Attorney, wills and dealing with an estate

General money advice to maximise your income and help understand the basics of day-to-day correspondence and bills

Help with many benefit application forms
General enquiries and signposting
If we cannot help with your query we will try to find an organisation that can
About the service
Our free, independent and confidential advice service is provided by a friendly team of staff and volunteers.
We offer face-to-face appointments and 'drop-in' advice sessions at our offices as well as our telephone advice helpline and answering email enquiries. We may be able to offer home visits for certain enquiries such as helping to complete Attendance Allowance, Blue Badge and Disability Living Allowance forms. Some of our team also attend community events to give information and advice.
In addition we offer:
Legal affairs service – free 30mins appointment at our Devizes office with a legal affairs volunteer for general advice on certain legal topics (mainly wills, LPA and dealing with an estate). This does not constitute professional legal advice.

Money Advice clinic (MAC) - free appointments at our Devizes or Salisbury offices with a specialist volunteer focusing on managing their money, reviewing outgoings, budgeting, organising paperwork and accessing free debt advice.
For advice outside of these hours you can contact Age UK's national advice line on 0800 169 6565.
Client feedback: 'The contact numbers and addresses you have given me will make this rather easier than I had expected. Before I spoke to you I really wasn't sure just where to begin!'
Access our I&A Team
Telephone: 0808 196 2424 (Mon - Fri 10am-3pm)
Email: enquiries@ageukwiltshire.org.uk
Face-to-Face:
Devizes Office: Tues, Thurs & Fri 10am-3pm
Salisbury Office: Mon - Thurs 10am-3pm & Fri 10am-12pm
Our Client Statement
Attendance Allowance form completion guide
Income Maximisation and Benefits Calculator
Useful information guides
Local
services
and traders
Our Quality Standards
Age UK Wiltshire's Information & Advice team have achieved the Age UK I&A Quality Standard mark and the Advice Quality Standards (AQS). This demonstrates that our service meets recognised Advice Sector standards of practice and that the information and advice we give is of a high standard.